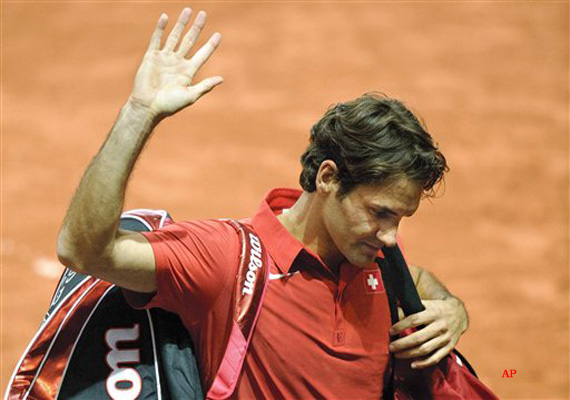 London, Feb 12 : The Davis Cup was beyond Roger Federer's reach for another year, while defending champion Spain, Argentina, the Czech Republic and United States advanced to the quarterfinals on Saturday.

Federer played the first round this week for the first time in eight years, and hand-picked the indoor clay-court in Fribourg believing it to be better suited to Switzerland than the visiting Americans.
But after losing his singles to John Isner on Friday, Federer and Stanislas Wawrinka, the Olympic doubles champions, lost to Mardy Fish and Mike Bryan 4-6, 6-3, 6-3, 6-3 to end the tie as a contest.

Other 3-0 winners were Spain over Kazakhstan, 2011 runner-up Argentina over Germany, and the Czechs against Italy.

Serbia, the 2010 champion, was stalled when Sweden won the doubles 10-8 in the fifth set, and Russia avoided losing in Wiener Neustadt when it won a five-set doubles over the surprisingly gritty Austrians.

France took a 2-1 lead over Canada after the doubles in Vancouver, and Croatia led host Japan 2-1. The Davis Cup was the only major silverware missing from Federer's trophy cabinet, and he had only praise for the Americans' effort in front of a hostile crowd.

 "They did really well and got the victory they deserved," he said. "We did have our chances but maybe they were just a touch better than us again today."Fish, who played nearly 4½ hours on Friday to beat Wawrinka in the opening sinlges, was comfortable pairing with Bryan for only the second time, and a second win in Davis Cup.

Bryan, who usually plays with his twin brother Bob, improved his Davis Cup doubles record to 20-2.  "It's great that the guy I have to tee it up with is the best doubles player ever. I'm just trying to do my part," Fish said.

In Oviedo, Marcel Granollers and Marc Lopez, partners for the first time in the competition, eased past Kazakh pair Evgeny Korolev and Yuriy Schukin 6-2, 6-3, 6-1 to secure Spain's win.

Spain has won three titles in the last four years, led by Rafael Nadal, David Ferrer, Feliciano Lopez and Fernando Verdasco, but none of the foursome will be available this year, leaving Spain vulnerable away from home, where it hasn't lost a tie since 1999. Next up will be either Austria or Russia.

In Bamberg, Argentines David Nalbandian and Eduardo Schwank overcame first-time German pair Tommy Haas and Philipp Petzschner 3-6, 4-6, 6-4, 6-3, 6-4.Petzschner, a Wimbledon and U.S. Open doubles champ, and Haas, playing his first tie in five years, almost surprisingly prevailed to keep the tie alive. But the Argentines are durable anywhere, having reached the quarterfinals for an 11th straight year.

In Ostrava, Tomas Berdych and Radek Stepanek sealed a home win by beating Italians Daniele Braccialli and Potito Starace 6-3, 6-4, 6-2. Berdych and Stepanek are 9-1 in Davis Cup doubles.

The Czechs will face either Serbia or Sweden in April, and would love to face Serbia at home to avenge a loss in the 2010 semis.   Serbia, up 2-0, thought it could finish off Sweden in Nis on Saturday, but Johan Brunstrom and Robert Lindstedt edged Janko Tipsarevic and Nenad Zimonjic 3-6, 6-3, 7-6 (4), 6-7 (3), 10-8 in 3 hours, 8 minutes.

Serbia hopes to wrap up the tie in the first reverse singles on Sunday, when Tipsarevic plays Michael Ryderstedt.   "All the credit to the Swedish team, but we are still leading and I expect the victory in the next match," Serbia captain Bogdan Obradovic said.

Russia barely forced its tie with underdog Austria into a third day when first-time partners Nikolay Davydenko and Mikhail Youzhny took nearly five hours to subdue Oliver Marach and Alexander Peya 7-6 (1), 6-7 (7), 7-5, 3-6, 6-4. The Russians rallied from 3-0 down in the final set, and Youzhny said they were lucky.

He and Davydenko, both ailing, are expected to be tasked with lifting Russia to victory from 2-0 for the first time since 1995. That also happens to be the same year Austria last got out of the first round.

"This is hard to swallow," Marach said. "We were so close but just could not close it out."

In Vancouver, Julien Benneteau and Michael Llodra defeated Canada's Milos Raonic and Daniel Nestor 7-6 (1), 7-6 (2), 6-3 in just over two and half hours to give France a 2-1 lead.

The visitors will look to close out the tie in the reverse singles matches on Sunday, where Jo-Wilfried Tsonga plays Raonic, before Benneteau faces Vasek Pospisil, and set up a meeting with the U.S. in the quarterfinals.