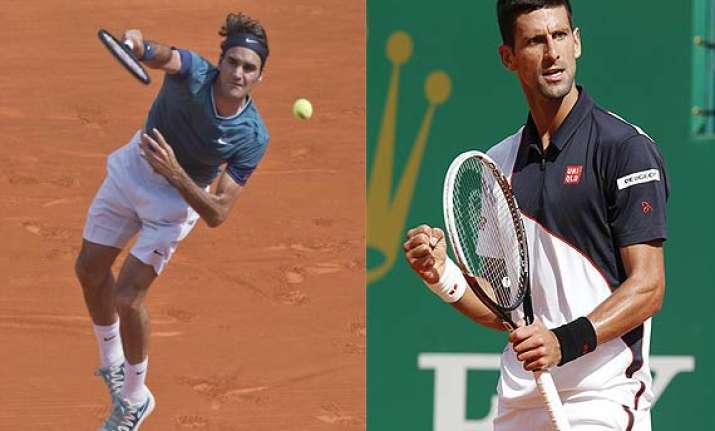 Monaco:  Serbia's Novak Djokovic and Swiss great Roger Federer will face one other in the semifinals of the Monte Carlo Masters after each triumphed in hard-fought matches Friday.
Djokovic, ranked second in the world, needed more than two hours to defeat Spaniard Guillermo Garcia Lopez 4-6, 6-3, 6-1.
Federer, meanwhile, squandered 16 break-point chances in the first set against Jo-Wilfried Tsonga of France and came within two points of losing the match before winning the tiebreak in the second.
The 2-6, 7-6(6), 6-1 triumph was the 950th of Federer's career, which leaves him trailing only Ivan Lendl, with 1,071, and Jimmy Connors, who won 1,253 matches.
Federer has come out on top in 17 of 33 previous matches with Djokovic, who took the trophy at Monte Carlo last year.
The other semifinal will pit Spain's David Ferrer over Federer's compatriot Stanislas Wawrinka.
Ten years after his only previous clay-court victory over countryman Rafael Nadal, Ferrer upset the world No. 1 on Friday, winning 7-6(1), 6-4, while Wawrinka dispatched Canada's Milos Raonic 7-6(5), 6-2.
Taking advantage of Nadal's 44 unforced errors, Ferrer thwarted the reigning king of clay's bid for a 31st straight win on the soft surface and a ninth Monte Carlo championship.
Ferrer broke Nadal's serve in the second game of the first set, but the top seed returned the favor in the nearly 16-minute-long third set.
Nadal missed a chance to win in the 11th game and was routed 7-1 in the tiebreak.
Rafa's troubles continued into the second set and he found himself down 5-2 before rallying to win two games, only to falter on the first match point and cede the contest to the world No. 6.
"It was a long wait but I am pleased with the win and the way I played," Ferrer told Spain's Teledeporte television in an on-court interview.