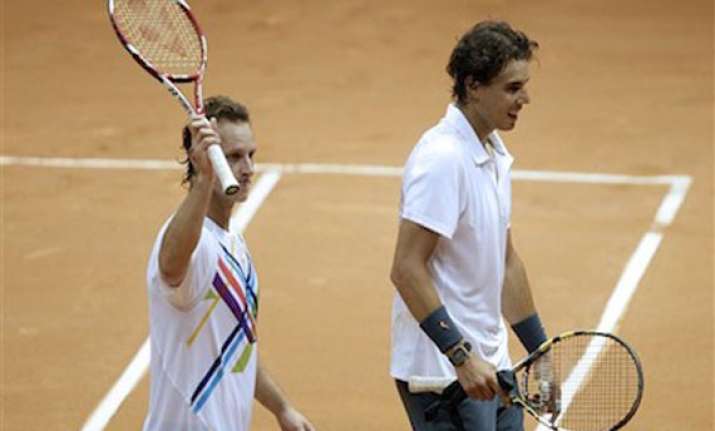 Sao Paulo, Feb 14: Rafael Nadal withdrew from doubles at the Brazil Open on Wednesday to rest his sore left knee ahead of his opening singles.
Nadal and David Nalbandian of Argentina were to play the final match of the day on center court, but tournament organizers said the duo withdrew because the 11—time Grand Slam winner was concerned about putting too much stress on his knee.
The quarterfinal would have started past 11 p.m. local time and Nadal was scheduled to play his first singles match on Thursday at the Ibirapuera indoor arena in South America's biggest city.
Organizers said the decision was made after Nadal met with tournament doctors not long before he was to go on court.
Earlier, Nalbandian beat Chilean qualifier Jorge Aguilar 7—5, 5—7, 6—3 in a difficult first—round match. He served 11 aces and broke serve four times to defeat Aguilar in 2 hours, 12 minutes at the clay—court tournament.
Spaniard Albert Montanes got past Paolo Lorenzi of Italy 6—4, 6—4 and Horacio Zeballos of Argentina, who won his first ATP title by beating Nadal last week in Chile, retired because of nausea and fatigue while trailing Paul Capdeville of Chile 6—7 (5), 6—0, 3—0.
Capdeville will play defending champion and second—seeded Nicolas Almagro in the second round on Thursday. Third—seeded Juan Monaco of Argentina will face Italian Simone Bolelli.
Fourth—seeded Jeremy Chardy of France lost 4—6, 6—4, 6—7 (5) to Martin Alund of Argentina in a match that lasted nearly two and a half hours before Nadal was to play.
Nadal, who has a bye in the first round but opened the doubles with a victory on Tuesday, will play Brazilian Joao Souza, who was leading Ruben Ramirez Hidalgo 7—6 (6) when the Spaniard retired because of a right ankle injury.
Nadal reached the singles and doubles finals last week in Chile, his first tournament after more than seven months out to treat his left knee. He lost both finals.