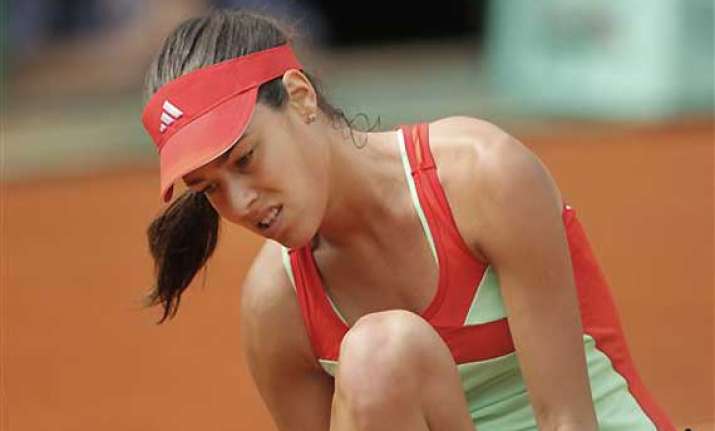 Paris, June 1: Ana Ivanovic lost in the third round of the French Open, falling to Sara Errani of Italy 1-6, 7-5, 6-3 Friday.
The 13th-seeded Ivanovic, a former top-ranked player who won the French Open title in 2008, committed 37 of her 40 unforced errors in the final two sets. Errani had only 18.
For Errani, it was only the second time in 39 matches that she has beaten a player ranked in the top 15.
Also, American teen Sloane Stephens advanced to the fourth round by beating Mathilde Johansson of France 6-3, 6-2. Of the eight teenagers in this year's draw, the 19-year-old Stephens was the only one to even reach the third round.
Later Friday, top-ranked Novak Djokovic and 2009 champion Roger Federer will play their third-round matches, while second-seeded Maria Sharapova will play in the second round.
Rafael Nadal has made a habit of celebrating at Roland Garros, and it's not just because his June 3 birthday falls during the French Open.
This year, he is so focused on winning a record seventh French Open that he couldn't even remember exactly when he will turn 26.
"When is my birthday?" Nadal said Thursday after being asked if he had anything special planned. "I don't know the day."
When you play like Nadal on clay, the only date to remember is the day of the French Open final.
This year, that's exactly a week after his birthday.
"Difficult to celebrate ... when you are in the middle of the tournament, but sure, I'm going to go for dinner with the team," Nadal said. "I don't know if some family going to come. I don't know yet."
The second-seeded Nadal improved his French Open record to 47-1 on Thursday after beating Denis Istomin of Uzbekistan 6-2, 6-2, 6-0. If he wins five more matches, he will break the record of six French Open titles he shares with Bjorn Borg.
Nadal wasn't the only record-breaker on court Thursday. John Isner, the American who won the longest match in tennis history two years ago at Wimbledon, lost 18-16 in the fifth set of another marathon match.
Also, Andy Murray overcame back spasms to reach the third round, while fourth-seeded Petra Kvitova advanced in straight sets.