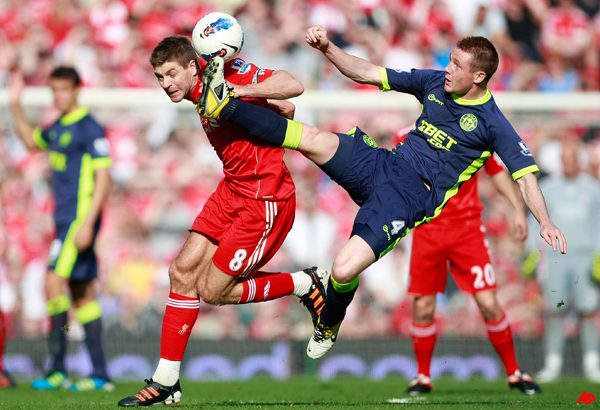 Liverpool (England), Mar 25: Wigan claimed a surprise 2-1 victory over struggling Liverpool at Anfield on Saturday to boost its chances of escaping relegation in the Premier League.
Defender Gary Caldwell grabbed the winner in the 63rd minute for Wigan, which remains in the relegation zone but is now level on points with third-bottom Queens Park Rangers.
Uruguay striker Luis Suarez's 12th goal of the season had earlier canceled out Wigan's opener from the penalty spot by Shaun Maloney, but Liverpool slipped to only its second home defeat of the campaign.
"It is an historic day for us, Wigan beating Liverpool at Anfield," Wigan manager Roberto Martinez said. "That is why we are involved in football — to defy the odds and history."
With eight games remaining, Liverpool is now 13 points adrift of fourth-place Tottenham in the last Champions League place after just one victory in seven matches.
The northwest club has already qualified for the Europa League courtesy of winning the League Cup at Wembley Stadium on Feb. 26, but its league form has been poor ever since.
"I think they looked a bit tired," Liverpool manager Kenny Dalglish said of his players. "We had a lot of possession in the game, we gave away the ball quite a lot in vital positions and it is not because they cannot play, but tiredness.
"For us that would be a reasoning behind our own performance."
Maloney put Wigan ahead after Martin Skrtel kicked Victor Moses in the face, leaving the midfielder concussed and needing hospital treatment.
"We are concerned that it is a fracture but he was not himself and he couldn't really think straight," Martinez said.