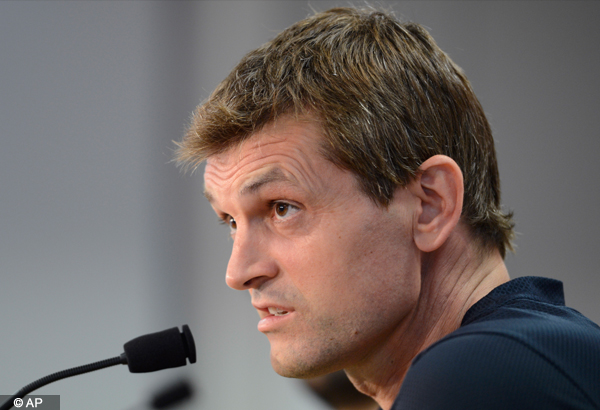 Barcelona, Spain, Aug 20: Following Barcelona's 5-1 thrashing of Real Sociedad in Tito Vilanova's debut on Sunday, the Catalan club appears to have found the ideal coach to carry on the legacy of Pep Guardiola and the most successful side in the club's history.




Barcelona continued to display the same suffocating pressure, short combinations in tight spaces, and clinical finishing as exemplified by Lionel Messi's double in the Spanish league match.

"It is always important to begin winning in this way," said Vilanova.

"I like what I see from my players because I see they are still hungry to keep winning. We always try to press up the pitch and I believe that is the way people want us to play."

Messi says he shared Vilanova's desire to add to the club's 14 titles under Guardiola.

"Just like Tito, I want to win everything," the Argentina forward said.

Even though he had served as Guardiola's assistant for five campaigns, it came as a mild surprise when the club decided to stick with the soft-spoken former youth player who seemed to prefer being a right-hand man to a leader.

But the wisdom of the club's choice was, at least for the moment, confirmed by the team's performance on a night when fierce rival Real Madrid was held to a 1-1 home draw by Valencia in the opening game of its Spanish league title defense.

"Tito already said that this team maintains the same philosophy and that was proven tonight," Messi said.

Barcelona's win included the return of striker David Villa, who hadn't played in a competitive match since breaking his leg last December. Vilanova sent Villa on with 15 minutes to play, and the Spanish international gave his team its fifth goal.

"The night was perfect because Villa scored in his return," said Vilanova.

"It is very important to win the first game. The best thing was the return of Villa. His goal will give him a boost and peace of mind."

Barcelona hosts Madrid in the first leg of the Spanish Supercup on Thursday.

The game will reunite Vilanova with Madrid coach Jose Mourinho, who infamously poked Vilanova in the eye during a heated team scuffle at the end of last year's Supercup, which the Catalan club won.

"I don't think it is important (for the Supercup) that Madrid drew," said Vilanova. "The Supercup isn't a minor tournament and we want to win it."