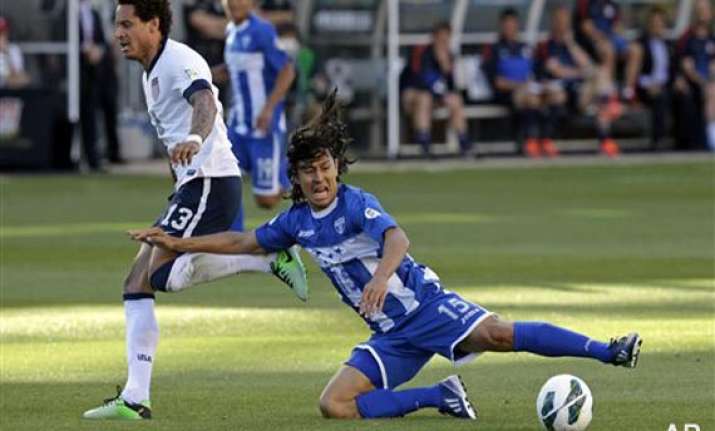 Sandy (Utah), Jun 19: The United States and Costa Rica both closed in on place at next year's World Cup by winning their home matches in Tuesday's CONCACAF qualifiers.
The U.S. had a 1-0 win over Honduras, with Jozy Altidore scoring the sole goal in the 73rd minute, while Costa Rica recorded a 2-0 victory over Panama.
With six of ten games played in the six-team group, the U.S. is in top spot in the standings on 13 points while Costa Rica is second with 11 points.
With the top three teams to qualify directly to Brazil 2014, Mexico is in third place on eight points, just a point ahead of Honduras in fourth, which yields a place in a further intercontinental playoff.
Panama is a point further back in fifth while Jamaica is last on just two points.
Honduras was the last visiting team to win at the United States in a World Cup qualifying match, back in 2001. The Americans have won or drawn 25 straight at home since then.
The visitors made it difficult on the Americans for much of the game by slowing the pace before Altidore broke through, taking a cross from Fabian Johnson and shooting across the goalkeeper and inside the right post.
"The team now understands it's not only a physical grind you put into these games. It's a mental one," coach Jurgen Klinsmann said. "Mentally we're getting stronger. We're getting tougher. We are now prepared to go through the games."
It was Altidore's ninth goal in a qualifier as he finally develops into the scoring threat the United States has hoped for.
"We are very happy for Jozy," Klinsmann said. "We always told him from a coaching perspective that it takes a lot of hard work, it takes a lot of adjustment, it takes the right moment to be there, it takes the hunger. The energy he has put in the last four or five games has been tremendous. It's not only that he scored those goals, the work he does for the team is awesome."
Costa Rica also had to wait until the second half to break through against Panama.
Fulham's Bryan Ruiz opened the scoring on a free kick in the 49th minute, and Celso Borges clinched it just about two minutes later from long distance in a steady rain at National Stadium.
The CONCACAF qualifying campaign now goes into recess before resuming in September.