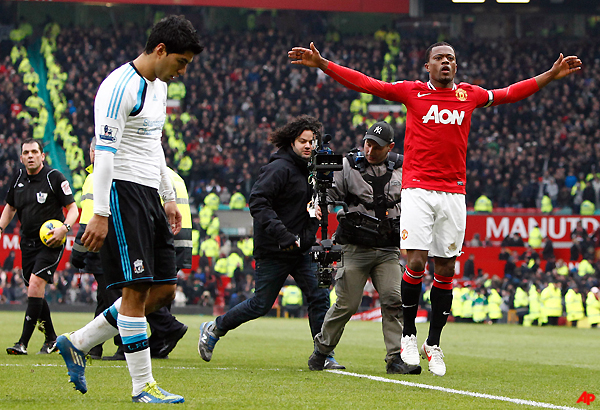 London, Feb 12: A ball had yet to be kicked in Saturday's tension-filled match between Manchester United and Liverpool at Old Trafford when the fierce rivalry between English football's two most successful teams plumbed new depths.

And it was no surprise that Liverpool striker Luis Suarez and United defender Patrice Evra were at the center of the storm.

Suarez's decision to shun a pre-match handshake with Evra, the player he was found guilty of repeatedly racially abusing during a Premier League match in October, inflamed tensions that spilled over into the dressing rooms and required the intervention of police on two occasions.

The most high-profile match in the English game, which United won 2-1 to go top of the standings overnight, was suddenly overshadowed.

"I couldn't believe it," United manager Alex Ferguson said of Suarez. "He is a disgrace to Liverpool Football Club.

"He shouldn't be able to play for Liverpool again."

It was the first time Suarez and Evra had come face to face since the Uruguay striker was banned for eight matches for calling Evra "Negro" several times at the match at Anfield on Oct. 15.

Ferguson had said the prospect of a pre-match handshake would not be an issue. He was wrong.

As the players crossed for the traditional ritual before kickoff, Suarez withdrew his hand away from Evra, infuriating the United captain and adding to an already hostile atmosphere.

Evra tried to pull back the arm of Suarez as the Uruguayan moved to shake hands with goalkeeper David De Gea, who was next in the United line. Suarez refused to turn back.

Evra threw up his left arm in disgust, while United teammates Rio Ferdinand and Danny Welbeck — who are both black like Evra — pointedly refused to shake Suarez's hand moments later.

"After seeing what happened, I decided not to shake his hand ... I lost all respect for the guy," Ferdinand told United's in-house television station MUTV. "It could have been resolved between the two players today. After this, it's not great."

Evra was spoken to by referee Phil Dowd but was reported to have chased after Suarez as the players walked down the tunnel at halftime. According to Sky Sports, a melee erupted outside the dressing rooms, forcing stewards and police to intervene.

After the match, an emotional Evra danced in delight in front of the United fans, patted the badge on his jersey to whip up the crowd and — tellingly — ran past Suarez who was trudging off the pitch dejectedly.

Liverpool players Jose Reina and Martin Skrtel rushed over to protest against Evra's actions. Stewards and police had to intervene for a second time.

Liverpool manager Kenny Dalglish defended Suarez, as he has done ever since the saga erupted four months ago.

"I think you are bang out of order to blame Luis Suarez for whatever happened today," an angry Dalglish told a television interviewer.

Dalglish hasn't yet reacted to Ferguson's comments.

Suarez was booed by United fans whenever he touched the ball, just as Evra was jeered by Liverpool supporters in the FA Cup fourth-round match between the sides two weeks ago.

"For a club with their history, I'd get rid of him, I really would," Ferguson told MUTV. "Liverpool Football Club have a player banned for eight matches and they've tried to blame Patrice Evra. It's him they should be blaming. He could have cost them a European place."

Suarez scored Liverpool's goal in the 80th minute to reduce the deficit to 2-1 but wasn't at his best throughout.

Reacting to the match in a Twitter post, he barely referred to the furor he had caused.

"We are lost and we are sad because we have made a big effort," Suarez wrote. "Disappointed because everything is not that it seems."

The focus on the pre-match handshake, which is part of the Football Association's 'Respect' campaign, was just as intense a fortnight ago in a match between Chelsea and Queens Park Rangers that also had a backdrop of racism.

QPR defender Anton Ferdinand — the younger brother of Rio — was spared having to decide whether to shake the hand of John Terry when the FA allowed the teams to forego the ritual.

That match was the first meeting of the west London rivals since Terry was alleged to have racially abused Ferdinand during a Premier League match in October.

Terry will face a criminal charge over the incident in July and has already been stripped of the England captaincy by the FA, a decision that led to the departure of Fabio Capello as coach this week.

Capello was unhappy he wasn't consulted by the FA over the decision.

The FA may now regret deciding not to pull the pre-match handshake at Old Trafford, and is now duty-bound to ask for further evidence from Dowd over what happened at the end of each half.

The governing body will be thankful the teams do not meet again this season.