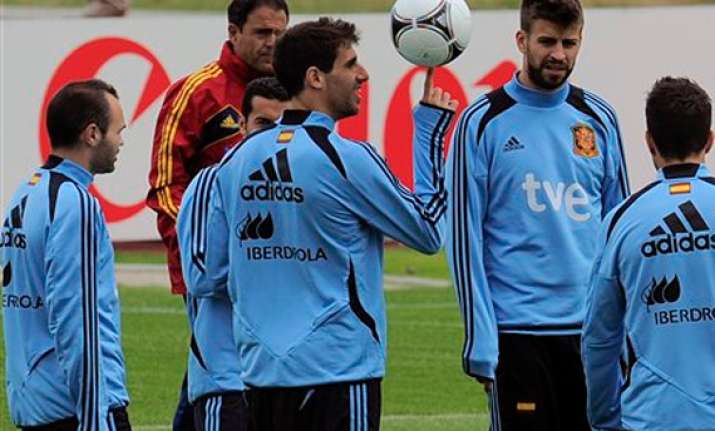 Poland, Jun 6 : Coping with the absence of talismanic defender Carles Puyol looks set to be one of Spain's toughest tasks if it is to avoid starting the European Championship like the World Cup.
Puyol is one of two key players missing to injury for the defending champions, who are also without striker David Villa.
The 34-year-old Barcelona captain and centerback, often called a warrior leader because of his hardened appearance and shaggy locks, is missing a major tournament for the first time since his debut with Spain 12 years ago.
While Spain's squad is replete with defensive talent in Gerard Pique, Sergio Ramos, Javi Martinez and Raul Albiol, Puyol's experience and character are significant losses. Spain, which opened the World Cup with a surprise 1-0 defeat by Switzerland, plays Italy on Sunday.
"His wealth of experience is recognized by all," Spain fullback Alvaro Arbeloa said Wednesday at Spain's training base in the north of Poland. "His personality on the field is the same off and we're going to miss that."
Especially before a daunting Group C opener against the Azzurri with memories of Switzerland still fresh, even though the Spanish rebounded from that loss with six straight wins to lift the World Cup for the first time.
"Nobody likes to lose the first game of a tournament like that, especially as a defeat leaves you with practically no margin for maneuver," Arbeloa said. "Your confidence is always higher when you start with a victory."
Coach Vicente del Bosque offered few clues to who would fill the vacant spots in his starting lineup in Gdansk, which lies about 70 kilometers (45 miles) south of this sleepy village, set in wooded townships and far from distraction. Midfielder Cesc Fabregas (hamstring), forward Jesus Navas (right hand) and Arbeloa (neck) all trained normally with the rest of the squad in front of hundreds of boisterous spectators, who were at times asked to quiet down by assistant coach Toni Grande.
Pique normally would have been an automatic choice to partner Ramos in the center of defense except the Barcelona centerback enjoyed an irregular club campaign which saw him left out of the squad for important matches, such as in the Champions League. Puyol, who postponed retirement from international duty to play in Poland and Ukraine, was enjoying a strong season before surgery to his right knee kept him from his third European Championship.
Spain's defense has been prone to lapses on the counter with its talented midfield controlling so much possession.
"No doubt they are two very important players who have been a vital part of Spain's recent titles," Martinez said of Puyol and Villa. "But we're lucky that we can count on players who can do as good a job or better so that we don't note those absences."
The 23-year-old Martinez could get the call should Pique underperform, with the young Athletic Bilbao player coming off a career season in which he helped the Basque club to two cup finals, including its first continental one in 35 years. Barcelona, Real Madrid and Bayern Munich are among the clubs reportedly interested in signing Martinez.
"I've always played more of a midfield role and with (coach Marcelo) Bielsa's arrival this year at Athletic he thought I could lend an important presence to the defense," Martinez said. "At first it took time to adapt because everything had changed but, little-by-little, I felt more confident. I'm lucky to be able to play in both positions for either Bielsa or Del Bosque."
Arbeloa appears to have the edge to play right back over Juanfran Torres with newcomer Jordi Alba poised to start at left back.
In attack, Fernando Torres, Fernando Llorente and Alvaro Negredo are all vying for the starting striker's spot although Del Bosque could opt for different tactics and employ one of his midfielders in the striker's role as Barcelona does with Lionel Messi.
Manchester City playmaker David Silva could fill that role if Del Bosque isn't convinced by his strikers.
"We have players who can play as false striker, who aren't classic No. 9s, but who know how to play the position, like Silva for example," Martinez said. "It's not his normal spot, but he has a knack for goal and for getting to the net."
Spain will also play Ireland and Croatia in Group C as it bids to become the first World Cup winner to defend its European title.