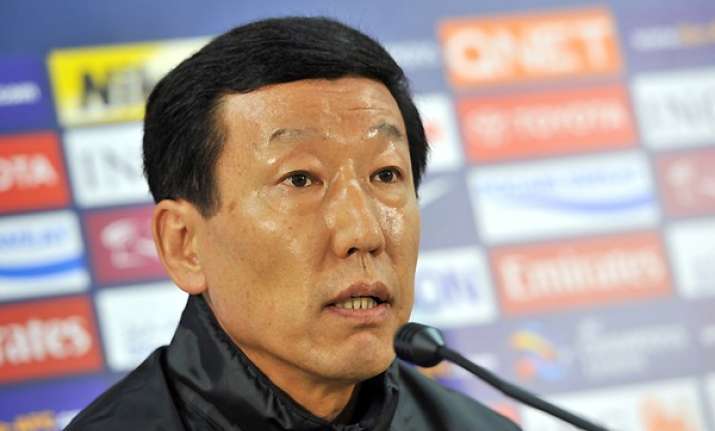 Seoul, Dec 21: South Korea sprang a surprise by appointing Choi Kang-hee as the new coach of the national team on Wednesday despite the fact he had already turned down the job and that a foreign coach was widely anticipated.

Choi, who had been coach of club side Jeonbuk Motors, replaced Cho Kwang-rae, who was fired earlier this month after a shock defeat by Lebanon jeopardized the country's chances of advancing in Asian qualifying for the 2014 World Cup.

Korea needs a draw against Kuwait on Feb. 29 to be certain of a place in the final phase of qualification, and the importance of that game was a decisive factor in Choi getting the job.

"We thought long and hard about it," Korean Football Association technical chief Hwangbo Kwan said. "We decided to appoint Choi because we wanted to make the most of the short time we have before the game against Kuwait on February 29 and Choi can led the team in stable manner."

Choi is the longest serving coach in the K-League and in six seasons took Jeonbuk to the 2006 Asian Champions League title and the 2009 and 2011 domestic championships.

Hwangbo insisted Choi was the first choice of the technical committee, but the 52-year-old turned down the job the day after Cho was fired and earlier this week, the KFA had said an overseas coach would be appointed.

Guus Hiddink, who earned national hero status for guiding the team to the 2002 World Cup semifinals, was considered a chance to return, while ex-England coach Sven Goran Eriksson and 2002 World Cup winner Luiz Felipe Scolari were also thought to be candidates.

On Tuesday, the English media reported that former Sunderland coach Steve Bruce could be appointed.

Under Choi, Jeonbuk Motors became known for an aggressive and attacking blend of soccer and the team was top scorer in the K-League as well as the Asian Champions League. Jeonbuk reached the final in the continental competition in November before losing to eventual champion Al Sadd of Qatar in a penalty shootout.

Choi, named as K-League coach of the year last week, will be officially unveiled at a press conference in Seoul on Thursday.