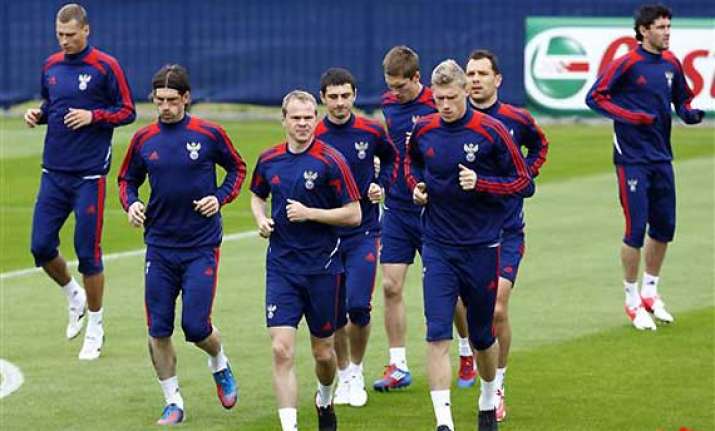 Warsaw (Poland), June 5: Beating Italy 3-0 in a final pre-tournament friendly was not good enough for Russia coach Dick Advocaat.
After last Friday's match, the Dutchman scanned video of the match looking for ways his team could improve.
"The good thing is, hopefully it gives us confidence we can score three times against a team like Italy with all its individual stars," Advocaat said.
"On the other hand, I saw the game yesterday again and I saw ... things we have to improve. Otherwise we can have problems against teams like Czech, Poland and Greece."
Four years ago, the Russians made a surprising run to the semifinals of the 2008 European Championship. And Advocaat's perfectionism makes Russia an outsider at Euro 2012.
But he said Russia has to tighten up in defense, "because we gave away too many chances against Italy."
Russia, which won the first ever European Championship in 1960 when it was still the Soviet Union, opens its Group A campaign Friday against the Czech Republic in Wroclaw. The team then returns to Warsaw to play host Poland and 2004 champion Greece.
Advocaat's team is built around a core of players who played at Euro 2008 under another Dutch coach, Guus Hiddink, and was overpowered 3-0 by eventual champion Spain in the semifinals.
Stars such as Andrey Arshavin and Roman Pavlyuchenko shone four years ago and immediately cashed in on their success with moves to Arsenal and Tottenham, respectively.
In London, they gained experience playing club football at the highest level, but failed to consistently emulate their Euro 2008 successes. Both have since returned to play in Russia, Pavlyuchenko to Lokomotiv Moscow and Arshavin on loan to former club Zenit St. Petersburg.
Advocaat has enough quality in his squad that neither Arshavin nor Pavlyuchenko is certain to start Friday's opener.
Zenit midfielder Roman Shirokov scored twice against Italy to reinforce his claim on a spot in the starting lineup. The outspoken Shirokov was in the Russia squad four years ago in Austria and Switzerland but was dropped after the team's opening loss to Spain.
Advocaat can also call on Fulham striker Pavel Pogrebnyak, who is hoping to make his mark in Poland and Ukraine after missing out on selection four years ago because of injury.
"The majority of players are still there. That can be an advantage," Advocaat said. "The frame of the team is still there. Four years older, but also four years more experience."
While Advocaat was pleased with his team's performance -- and its clinical finishing -- against Italy, he doesn't expect such open matches once the European Championship gets underway on Friday.
"I don't think we will see that in the tournament," he said. "The majority of teams will play more or less out of the defense."
However, Russia is expected to play attacking football using the 4-3-3 formation favored by Dutch coaches. Ironically, the current Netherlands team coached by Bert van Marwijk prefers a 4-2-3-1 setup.
If Russia is to reach the semifinals at this tournament, it may have to overcome the Dutch just as it did four years ago in the quarterfinals.
Then, Hiddink's Russians beat the Netherlands, which was one of the tournament favorites after emphatically beating France and Italy in group play.
This time around, Advocaat still rates the Netherlands higher than his own team.
"We are one of the outsiders. The favorites are still Spain, Holland and Germany," he said.
But the rise in recent years of Russian football, both at club and international level, means his team has to be considered a contender.
"We are not a team with big stars like Italy, Holland, but we have a real team with some good individuals," he said. "All the players have experience. They play for top clubs in Russia. Russia's a very strong competition -- a lot of people underestimate that."