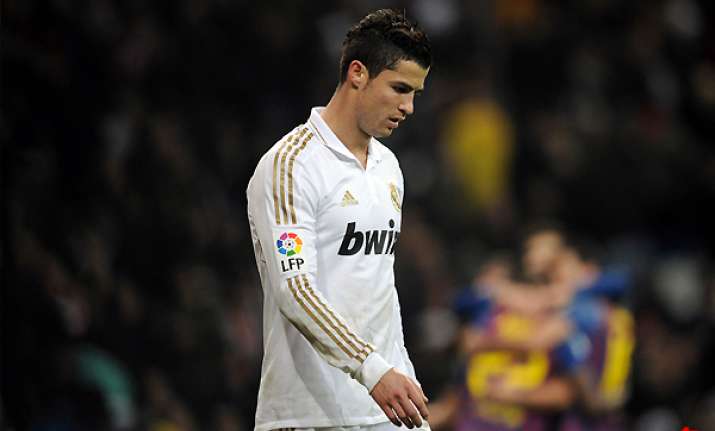 Barcelona, Dec 12: Real Madrid has found an unlikely scapegoat for its 3-1 loss to fierce rival Barcelona—leading scorer Cristiano Ronaldo.

Ronaldo set the Spanish league's all-time scoring record with 40 goals last season, but he had a miserable game on Saturday.

The Portugal forward fired several free kicks into the defensive wall and missed his team's best chance to score after Karim Benzema had put Madrid ahead after just 21 seconds.

Ronaldo's off-target header from close range in the 65th minute could have made it 2-2. Instead, Cesc Fabregas sealed Barcelona's win on Saturday a minute later.

As frustration grew at falling again to Barcelona, home fans at Santiago Bernabeu began to grumble when Ronaldo opted to go alone rather than look for a teammate.

Spanish radio reports said Ronaldo was booed as he left the stadium, and Madrid coach Jose Mourinho singled out his star's misses.

"In normal circumstances we can do it because we have a fantastic player in Cristiano Ronaldo who usually scores," Mourinho said.

But Madrid captain Iker Casillas came to his teammate's defense on Sunday.

"We are a team and we win and lose together," Casillas said. "Cristiano gives us goals and titles. We are all in the same boat."

In last season's Copa del Rey final, Ronaldo's stoppage-time goal gave Madrid its only win against Barcelona in the past 12 games and its only trophy in recent seasons.

Saturday's win lifted Barcelona to the top of the Spanish league standings, ahead of Madrid on goal difference. However, Madrid has a game in hand.