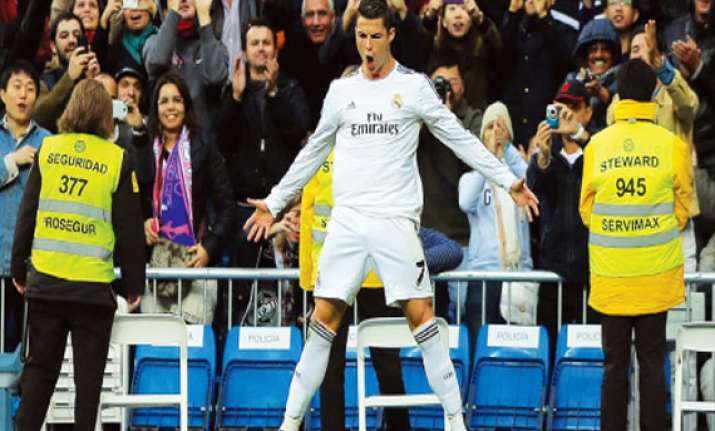 Madrid: The Royal Spanish Soccer Federation, or RFEF, Wednesday suspended Real Madrid forward Cristiano Ronaldo for three La Liga games after the player was sent off during a match last weekend against Athletic Bilbao.
The player, however, will still be available for the first leg of Real Madrid's Copa del Rey semifinal showdown against Atletico Madrid, which kicks off Wednesday at Santiago Bernabeu Stadium.
The federation's competition committee suspended Ronaldo for one game for swiping at Athletic Bilbao defender Carlos Gurpegi's face and two additional games for making an unsportsmanlike gesture to a referee while walking off the field after receiving a red card, the RFEF said.
The misconduct occurred during a game Sunday that ended in a 1-1 draw.
The committee said the one-game suspension for violent play also carries 950 euros in fines, 350 euros to be paid by Real Madrid and 600 euros by Ronaldo, winner of the Ballon d'Or as the world's best soccer player for 2013.
The two-game suspension also carries a total of 1,300 euros in fines, 700 euros to be paid by the club and 600 euros by the player.
Ronaldo will miss Real Madrid's upcoming La Liga matches against Villarreal, Getafe and Elche if the suspension sticks, although the club may appeal.
Real Madrid is currently tied for second in La Liga with Atletico Madrid, three points behind first-place FC Barcelona with 16 games remaining.