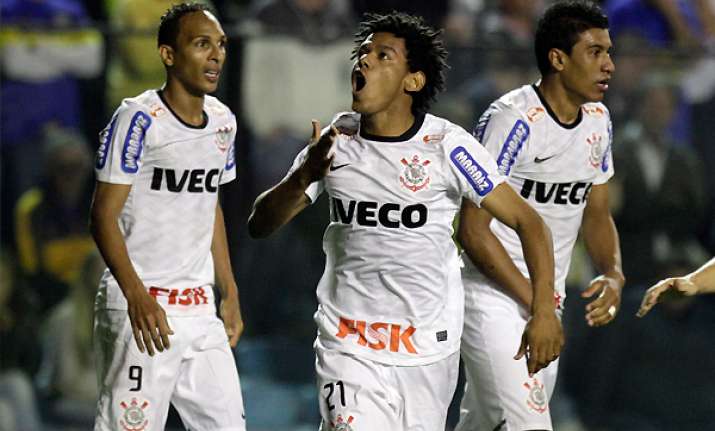 Buenos Aires (Argentina), Jun 28: Romarinho scored in the 85th minute to rally Brazil's Corinthians to a 1-1 draw against Boca Juniors of Argentina in Wednesday's first leg of the Copa Libertadores final.
The popular Brazilian club is now in a strong position to win the tournament for the first time in the second leg in Sao Paulo next Wednesday.
Romarinho, who came on as a substitute just minutes before the goal, gathered a pass and lobbed a perfectly weighted shot over fallen Boca goalkeeper Agustin Orion.
Facundo Roncaglia gave Boca the lead in the 73rd, a goal that opened up a tight-marking match with Boca doing most of the attacking and Corinthians content to defend.
Boca is attempting to win its seventh Copa Libertadores championship, the most prestigious title in Latin American club football.
"That poured a bucket of cold water on things," Boca defender Matias Caruzzo said. "These things happen in football, and we'll have to pay more attention in the next match."
Corinthians have been the best defending team in the tournament behind tough defenders Chicao and Leandro Castan. This continued against Boca until Roncaglia broke through with what looked like the winner, sending the crowd at Boca's Bombonera stadium — including former club star Diego Maradona — into a frenzy,
Roncaglia drove the goal high into the net after a header from Santiago Silva rebounded into his path following a corner from Juan Roman Riquelme.
Romarinho's goal came as Boca seemed just minutes from victory.
Boca substitute Lucas Viatri hit the crossbar in second-half injury time, which nearly saved the night for the popular Buenos Aires club.
Corinthians are Brazil's second most popular club, behind Flamengo, and have five national titles. But they have never had much success internationally. They won the inaugural FIFA Club World Cup in 2000, but only after being invited as the host team.
Lineups:
BOCA JUNIORS:
Agustin Orion; Facundo Roncaglia, Rolando Schiavi, Matias Caruzzo, Clemente Rodriguez, Pablo Ledesma, Leandro Somoza, Walter Erviti, Juan Roman Riquelme, Pablo Mouche (Dario Cvitanich, 87), Santiago Silva (Lucas Viatri, 83) .
CORINTHIANS:
Cassio, Alessandro, Chicao, Leandro Castan, Fabio Santos, Ralf, Paulinho, Danilo (Romarinho, 81), Alex, Jorge Henrique , Emerson.