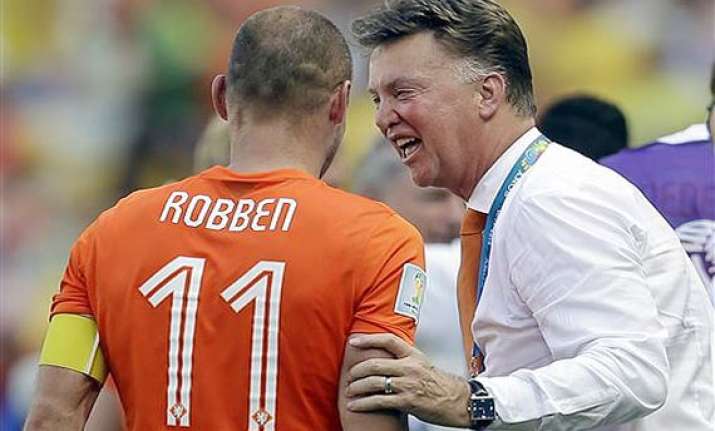 Salvador (Brazil): Dutch boss Louis van Gaal insisted his team will not underestimate Costa Rica ahead of Saturday's quarterfinal clash but he also stressed that his team's goal is to win the FIFA World Cup in Brazil.
"Our goal is always to be the world champions," said Van Gaal during a pre-match new conference , reports Xinhua.
"We are not a fantastic team but we are a team that is very difficult to beat. So far we have showed that and I hope we can keep that up till the final."
Van Gaal's team have enjoyed a perfect record so far in the campaign, winning all the four matches including three comeback victories against Spain, Australia and Mexico.
"We have conceded four goals in four matches averaging one goal per match. That means we are always able to equalise and make goals," said a confident Van Gaal.
"Of course we have not been playing well in terms of ball possession. I think we are one of the best teams in the World Cup, if not the best. And we also have individual qualities and skills which is why we progressed this far."
"We have always said during the preparation for this World Cup that not the best or most fantastic team is going to win but the best 23 players are going to win," he said.
"We only have one goal and we always support and complement each other. That is what the Dutch team is."
It will be the second time for the Netherlands to play in Arena Fonte Nova here and the last time they played here was in their group opener, where they trounced defending champs Spain 5-1.
"(Comparing to the last time Dutch played here) I do think the confidence in the team has increased," Van Gaal said.
"The Dutch media have not expected that we could get this far either. So everything we are achieving here should be fantastic for the Dutch media," he said.
"It will be a very tough match Friday. They got through with a lot of passion and faith. We should not take them lightly."