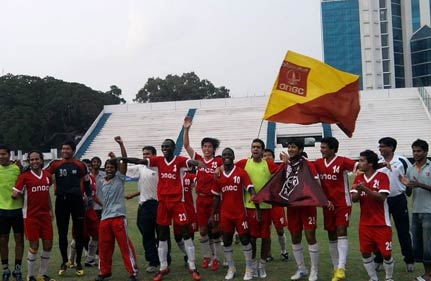 Gangtok, Nov 3 :  ONGC, Mumbai, has lifted the 32nd All India Governor's Gold Cup Football Tournament 2010 trophy by beating Bengal Mumbai FC 3-1.
Bengal Mumbai FC went ahead 17 minutes of the first half when Afam Dennis neatly placed the ball when their forward Mintu Saha was brought down inside the rival box last evening.
However, barely had the celebrations stopped N D Opara of ONGC [Mumbai] restored parity after an ONGC player was similarly brought down inside the rival box. Opara is one of the three foreign recruits having turned out for the ONGC [Mumbai] team.
As the ONGC [Mumbai] started settling down, Sandeep Sangha's header again sailed into the net in the 34th minute bolstering the margin.
Despite the Bengal Mumbai FC showing signs of regrouping early after the lemon break, ONGC [Mumbai] kept on the momentum and Opara again scored in the 56th minute, thus becoming the highest goal scorer of the tournament with nine goals and sealing the chance of recovery by the FC boys. PTI