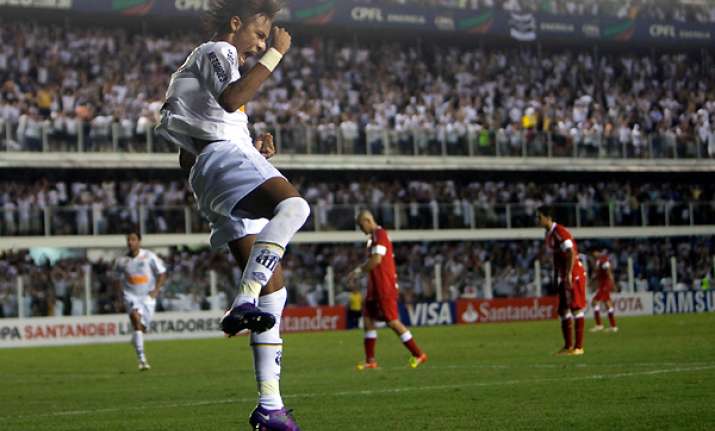 Sao Paulo, Mar 8: Neymar scored three goals as Santos beat Internacional 3-1 in a Brazilian derby in the group stage of the Copa Libertadores on Wednesday, while Fluminese edged Boca Juniors 2-1 to end the famous Argentine club's 36-match unbeaten run in all competitions.

Neymar's hat-trick gave reigning champion Santos its first win of this year's tournament and moved the club into second place in Group 1 with three points from two matches.

In the Group 4 match at Buenos Aires, former Chelsea and Portugal midfielder Deco set up Fred to score Fluminese's first in the 10th minute and scored the winner in the 55th, after Leandro Somoza had equalized for Boca two minutes after halftime.

The result improves Fluminense to six points in Group 4, while Boca has only one point and is in third.

"We defended well when we needed to defend," Deco said. "Today we got a little closer to qualifying for the next stage."

Six-time Copa Libertadores champions Boca fell behind early when Fred headed in at the near post from a precise Deco cross, but the Argentine champions piled on pressure before halftime, going close to equalizing with a series of chances.

After the break, Boca got the equalizer when Somoza converted after a Juan Roman Riquelme freekick rebounded into his path, but Deco was left free inside the area to convert a leftwing cross to score the winner.

The Argentine league leader had more possession over the 90 minutes and, despite the defeat, remains unbeaten in 33 games in Argentine league and cup competitions.

At Sao Paulo, Corinthians won 2-0 against Paraguay's Nacional in Group 6, with Danilo scoring in the 39th and Jorge Henrique adding the second in the 68th. The result improves Corinthians to four points and into second place in the group.

In the Group 1 match, Neymar scored his first goal from the penalty spot in the 19th minute. In the 54th, the 20-year-old Brazil international took the ball from inside his own half and ran directly into the opposition penalty area, slaloming past three defenders on his way, before lifting a shot over the outrushing goalkeeper.

Neymar's third came in the 65th when he again started from deep and outpaced the defenders before finishing into the roof of the net.

He missed other scoring chances, including in the 35th minute when he hit the post with a left-foot shot.

Internacional's only goal came in the 64th, when Leandro Damiao scored from close range.

At Quito, Deportivo Quito defeated Argentine team Velez Sarsfield 3-0 in Group 7.

Matias Alustiza and Fidel Martinez scored on either side of halftime and Luis Saritama made it 3-0 in the 71st.

Velez remain in top spot in Group 7 on six points, with Deportivo Quito in second on four points. Uruguay's Defensor Sporting and Mexico's Chivas have only played two games.