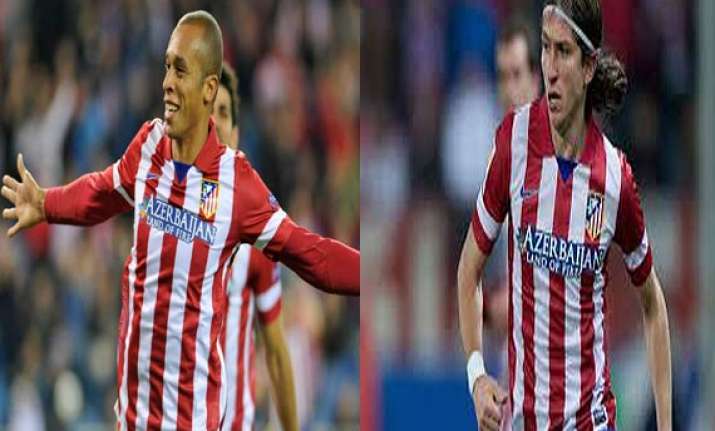 SAO PAULO :  Brazil coach Luiz Felipe Scolari has included Atletico Madrid defenders Miranda and Filipe Luis to the list of seven players on standby for the World Cup.
Scolari last week selected the 23 players who will play for the five-time champion at the home tournament. Those named on Tuesday will only make it to the team in case of injuries or other problems with those already selected.   
Tuesday marked the deadline for the 32 nations playing in the World Cup to send a preliminary 30-player list to FIFA.   
Scolari also added Paris Saint-Germain attacking midfielder Lucas Moura and Liverpool defensive midfielder Lucas Leiva, as well as Bayern Munich defender Rafinha, Fluminense goalkeeper Diego Cavalieri and newly signed Sao Paulo striker Alan Kardec.   
Veterans Kaka, Robinho and Ronaldinho, who had hopes of playing in the tournament, were left off the 30-player list.   
The final 23-man squads are due on June 2.   
Scolari said last week that he may not necessarily choose one of the alternates if a player from his initial list is injured.   
Scolari's preliminary squad didn't have any major surprises. He picked 16 players who won last year's Confederations Cup, including Neymar, Oscar, Dani Alves, David Luiz and Thiago Silva.   
Miranda, in great form with Atletico Madrid, was fighting for the last spot in that list, but Scolari chose Napoli's Henrique as the fourth central defender. Luis had previous chances with Scolari but lost his spot to Paris Saint-Germain's Maxell.   
Brazil is in Group A with Croatia, Mexico and Cameroon. It will play the World Cup opener against Croatia in Sao Paulo on June 12.   
Before that, Brazil will play two friendlies at home -- against Panama on June 3 and against Serbia on June 6.