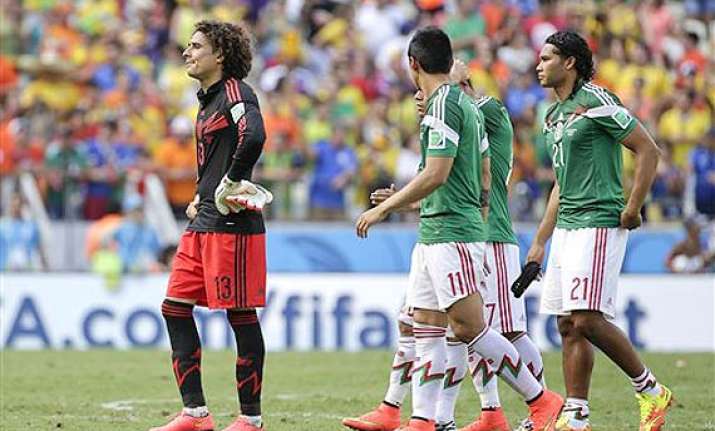 New Delhi: The Mexican team which remained dominant for the maximum part of the match against Netherlands just could not believe what had happened in the last six minutes of the game. A shot from Sniejder that even 'the wall' of Mexico Ochoa could not save and in the injury time a penalty which came as a  rescue for the Dutch just broke the dreams of the Mexican footballers and fans.     
Playing in the round of 16 for the sixth straight tournament, the Mexicans looked like they had finally done everything right against the Netherlands on Sunday.Their rigid defense was holding the free-scoring Dutch at bay, goalkeeper Guillermo Ochoa made some spectacular saves, and their string of first-half chances produced a goal from Giovani Dos Santos just after the break.  
It all unraveled in the 88th minute.Ochoa couldn't be everywhere at Arena Castelao, and Wesley Sneijder finally beat him with a shot aimed low. A few minutes later, Klaas Jan Huntelaar won it for the Dutch, scoring an injury-time penalty to make it 2-1 after Arjen Robben was taken down by Rafael Marquez.  
"The boys are very sad. It was really very painful to go out this way," Mexico coach Miguel Herrera said. "We were eliminated because of an invented penalty. "We are going home now and so should the referee." Herrera argued that Robben should have been cautioned by referee Pedro Proenca for two earlier penalty claims.