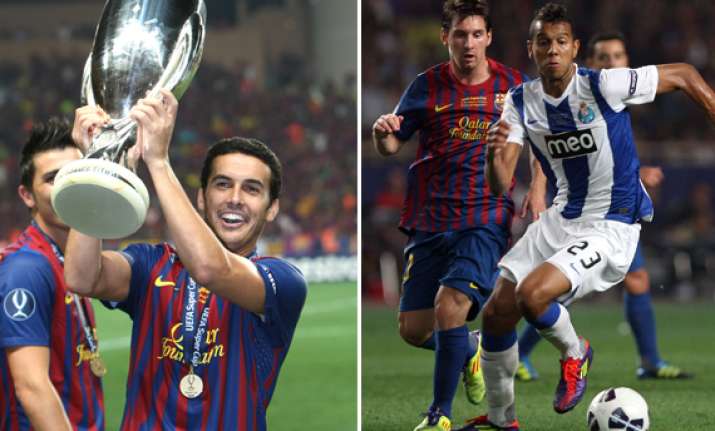 Monaco, August 27:  Reunited a decade after being teammates in the Barcelona youth academy, Lionel Messi and Cesc Fabregas linked up again Friday to help Barca win the European Super Cup with a 2-0 victory over FC Porto, which finished the match with nine men.

Messi, crowned Thursday as the Best Player in Europe, struck in the 39th minute after collecting a misplaced backpass from Porto midfielder Freddy Guarin. Standing all alone on the edge of the penalty box, Messi then rounded goalkeeper Helton to shoot into an unguarded net.

The Argentina forward found substitute Fabregas with an instinctive pass in the 88th minute that Barcelona's star offseason signing finished with a neat volley.

"He sees special passes and he scores special goals," Fabregas said of Messi. "The biggest part of this goal is thanks to him."

Victory made Pep Guardiola the most decorated coach in Barcelona's history with 12 trophies in just his fourth season. Dutchman Johan Cruyff, like Guardiola a former Barca playing great, has 11.
"To win 12 out of 15 titles is an average of four a year—it's too much, unthinkable!" Guardiola said.

Guardiola typically passed the credit to his players, who have welcomed back Fabregas eight years after he left for Arsenal as a 16-year-old.

"It's a special generation because these are not only huge players they are also friends," Guardiola said.

"Cesc is a very, very good player. He has everything it takes to play good football in midfield. His goal was a very good pass from Leo and then a very good piece of control from Cesc because he controlled the ball quickly and shot very well."

Fabregas also was able to take advantage of extra space after Porto defender Rolando got a second yellow card for tripping Messi in the 86th.

Guarin was then shown a straight red card for a petulant challenge on Javier Mascherano in the 90th.

The teams strode on to the field with Barcelona captain Xavi Hernandez carrying the giant-handled Champions League trophy and Porto goalkeeper Helton bearing the heavier Europa League silverware in his arms.

On a typically humid Monaco evening, Barcelona seemed more weighed down by the heavy air early on as Porto set about denying the Spanish side space.

Joao Moutinho brought the first save from Barcelona goalkeeper Victor Valdes in the seventh minute with a curling right-foot shot.

Three minutes later, Barcelona's Pedro Rodriguez was left clear in space by a sliced clearance but his volleyed lob was too high.

Porto then began a short period of dominating play, and big forward Hulk fired a sweeping left-footed shot flashing across the Barcelona goalmouth.

Copying a page from their opponents' playbook, Porto pressed further up the field, cutting off supply lines from Barcelona defenders to their meticulous passing midfielders.

"We prevented them leaving their own half. We were making Barcelona make mistakes and it's a shame we didn't score," Porto coach Vitor Pereira said.

"I'm very happy with our performance. The only thing I don't like is the result."

Midway through the half, Barcelona shook off the shackles and Messi sparked into life, skipping over three challenges before his attempted pass into David Villa's stride was stopped by defender Cristian Sapunaru's stretching block.

Xavi tested Porto keeper Helton for the first time in the 37th minute, hitting a rising shot that was tipped over the crossbar.

Two minutes later, Messi took advantage of Guarin's slack pass, as the Colombian midfielder did not seem to see him trailing 10 meters (yards) behind the play after a Barcelona attack broke down.

Messi clinically exploited the lapse to score his first European Super Cup goal, completing the set of every major club competition he has played in. He has also scored in the Spanish league, Spanish cup, Champions League, Spanish Super Cup and Club World Cup.

Porto started the second half strongly and soon forced two more saves from Valdes diving to his left. Moutinho sliced a left-footed effort from the edge of the penalty area, then Guarin drove powerfully from 35 meters (yards).

Helton kept his side in the contest in the 57th, diving to smother a low shot from Villa who was played in by Andres Iniesta.

The Brazilian keeper reacted sharply minutes later to deny Pedro, who had collected a perfect pass from Messi on a breakaway.

Villa was substituted for Alexis Sanchez, the Chilean winger signed for ¤26 million ($37 million) from Udinese in the offseason.

Barcelona's other expensive new boy came on for the final 10 minutes, and quickly sealed the victory. Fabregas now has two winners' medals in two weeks, following a Spanish Super Cup triumph over Real Madrid, since his prodigal return. AP