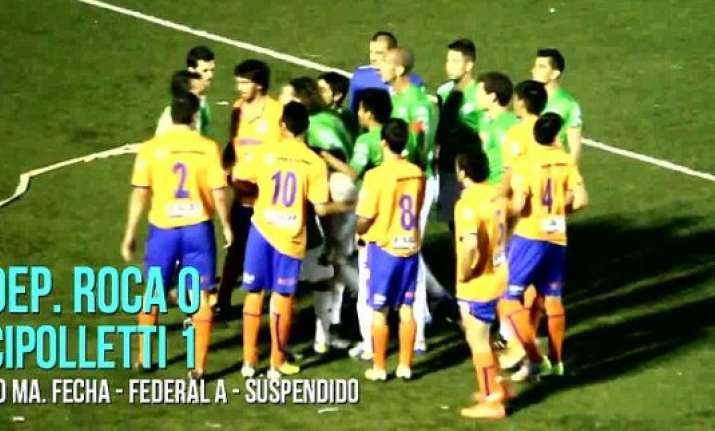 A vicious brawl involving players, substitutes and riot police forced an Argentine lower division match to be called off midway through the second half after 12 players were red carded.
Deportivo Roca's match at home to Cipolletti in Group One of the Torneo Federal A, the Argentine third tier, erupted into chaos after two players were sent off following a seemingly innocuous clash.
Following the melee, the referee handed out 12 red cards and the game was cancelled, Argentine media reported.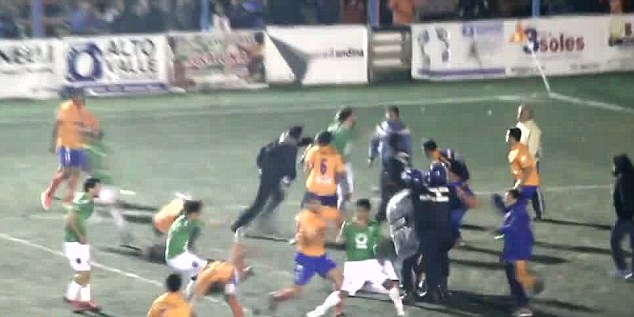 Cipolletti defender Marcos Lamolla was initially given a yellow card for a foul on Fernando Fernandez, who protested and was sent off.
This led to more protests, a scuffle and Lamolla was given another yellow and dismissed.
Video footage of the game posted online showed the livid Lamolla running the entire length of the pitch to square up to Fernandez, who was already on his way to the dressing room, but then being intercepted by a player.
The pair lashed out at each other which quickly led to a free-for-all in which players lunged at each other with flying kicks and punches, before Cipolletti players fled down the inflatable tunnel.
Referee Facundo Espinosa told Argentine media that he had sent off 10 further players in the chaos and they would be named in his official report.
'Both teams' players were disgraceful, they didn't behave like professionals,' said Deportivo Roca coach Diego Landeiro. 'It was a disgrace and it means lots of work down the drain. I'm very bitter.'