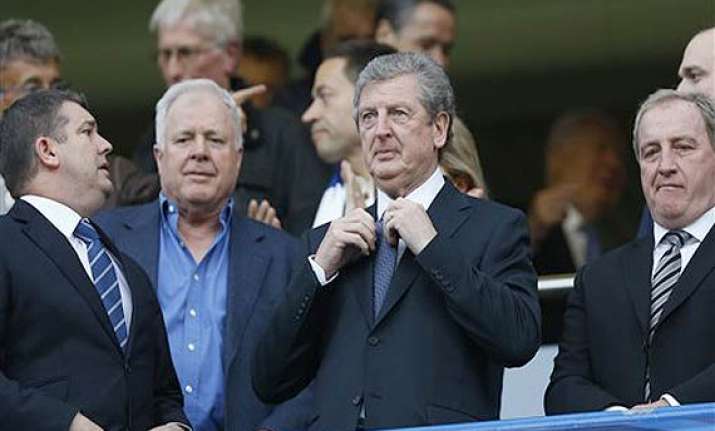 LONDON :  Manchester United's slump has jeopardized some players' chances of making England's World Cup squad, coach Roy Hodgson has warned.
United won the Premier League by 11 points before Alex Ferguson retired last year, but the players have mounted a feeble title defense under David Moyes, who was fired last month. Sunderland inflicted the seventh-place team's 12th loss of the league season on Saturday as the instant feel-good factor following Ryan Giggs' appointment as interim manager evaporated.   
Hodgson wants to take players high on confidence to Brazil rather than those who have been underperforming domestically, with the coach highlighting United's miserable campaign.   
"They're one of the few teams that have had a lot of English players, but football players have to accept unfortunately their England careers are tied up with their club careers," Hodgson said. "If it's not going well in their clubs and it's not going well for them in their clubs, and other players are doing extremely well in their clubs, it does put your position as a national team player under some sort of threat.   
"I'm pretty certain that the Man United players will understand that, that there's no God-given right that because they've played in a few games up to now, they'll play all the games in the future."   
While Wayne Rooney can be certain of a place at the World Cup if he is fit, the striker's United teammates could face an anxious wait before Hodgson announces his 23-man squad on May 12. Among United's England contingent are defenders Phil Jones and Chris Smalling, midfielders Michael Carrick and Tom Cleverley, winger Ashley Young, and striker Danny Welbeck.   
"It's up to me to pick who the best players for the job are at any given moment," Hodgson said. "Now that doesn't mean to say you'll choose a player for the national team every time he scores a goal, but it does mean you are judging over a relatively short period of time."   
England opens its World Cup campaign against Italy in Manaus on June 14, following a week-long trip to Miami to play friendlies against Ecuador and Honduras. Hodgson has told his players not to complain about boredom while away on World Cup duty.   
"I don't think it's our job to keep them occupied," Hodgson said. "Once you sign up for (the World Cup), you shouldn't then be saying, `Oh, I'm missing my family, oh, I'm bored. Or what can you do to help me?' because there's nothing we can do to help you.   
"It's like a soldier saying, `I'll sign up for the army but I don't want to see any action. I'm a bit bored here sitting around these barracks, every day with nothing to do,"' Hodgson added. "They must have plenty of boredom in their lives."