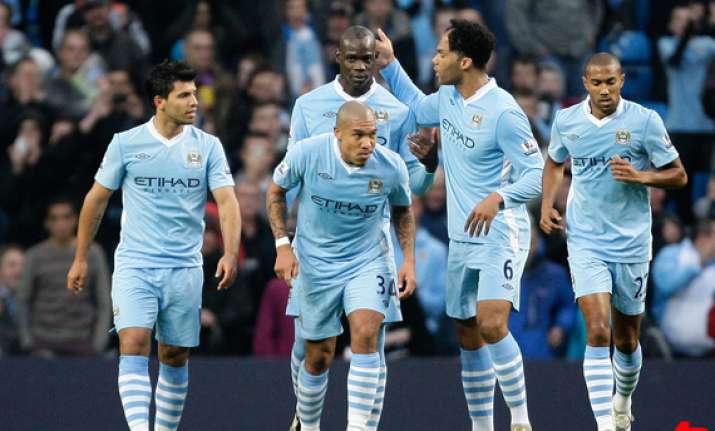 Naples, Nov 21: Napoli coach Walter Mazzarri has heard enough about Manchester City's ascent to the top of the Premier League and the $1 billion that owners have spent on the club since taking over in 2008.

As far as Mazzarri is concerned, the two clubs start level for their Champions League showdown at the San Paolo Stadium on Tuesday.

"There's a lot of talk about budgets, players' worth and salaries. They are on a level with Barcelona, Real Madrid and Chelsea -- but the game is decided on the pitch and we're going to give them some bother," Mazzarri said Monday. "If we then prevail, it will be a feat of feats."

Back in August, when Bayern Munich, City, Napoli, and Villarreal were drawn into the same Champions League group, a chorus of gasps went up inside the auditorium in Monaco.

Three months later, Bayern is nearly sure of advancing, Villarreal has been eliminated and the match between City and Napoli will likely determine the second squad that goes through to the next round.

"When the draw was made I though it would be impossible to reach the fifth round of games still with a chance of advancing," Mazzarri said. "That means we've done something extraordinary, and anything else that comes our way from hear on out will be gold."

Bayern leads Group A with 10 points, followed by City with seven, Napoli with five and Villarreal with zero.

City can advance with a win, while Napoli needs to beat the Premier League leaders to revive its chances.

"Whatever happens we'll still at least be in the Europa League," Mazzarri said. "But they've got more pressure than we do. The other night against Newcastle they changed five players and it didn't affect the way they play -- that alone shows you how strong Manchester is."

After beating Newcastle 3-1 Saturday to maintain its five-point lead over Manchester United in England, City comes to Naples with a nine-match winning streak in all competitions -- with a whopping 33 goals over that span.

Still, City manager Roberto Mancini sees room for improvement.

"I know that we can find more in Naples," the Italian said after the Newcastle match. "Napoli this season are playing very well at home. If we want to win in Naples, we should play better than we did this afternoon.

"The atmosphere will be fantastic and it will be a very difficult game," added Mancini, who knows a thing or two about playing in Naples from his time as a Serie A player and manager with Fiorentina, Lazio and Inter Milan.

Boosted by some of the most rabid fans in Italy, Napoli is unbeaten at home in 10 matches since returning to Europe after a 13-year absence in 2008. The last foreign team to prevail at the San Paolo Stadium was Eintracht Frankfurt in December 1994.

And City couldn't beat Napoli at home, needing a late goal from Aleksandar Kolarov to rescue a 1-1 draw after Edinson Cavani had given Napoli the lead in September.

"They have improved since then but we know what do so and I believe that if we're careful enough we've got the cards to hurt them," Mazzarri said.

"Our intent is always to attack and have the ball but clearly against a squad with similar characteristics you can't impose your play all match long," Mazzarri added. "We're going to have to attack them high, increase the pace of the game and bring them where we want them without trying to beat the entire world."

Napoli has won just one of its last seven matches in all competitions but will want to build off an impressive second half in the 3-2 loss to Bayern earlier this month.

Both sides are fully healthy and have a range of weapons in attack.

City forwards Sergio Aguero, Edin Dzeko and Mario Balotelli have already scored a combined 26 goals in the Premier League this season, while Napoli relies on its "Three Tenors" of Cavani, Ezequiel Lavezzi and Marek Hamsik -- who combined for 43 goals in Serie A last season.

Aguero is the son-in-law of Diego Maradona, who led Napoli to Italian titles in 1987 and 1990.

David Silva, Dzeko, Kolarov and Gareth Barry were all on the bench against Newcastle so they are likely to start. Napoli midfielder Juan Zuniga is suspended, while captain Paolo Cannavaro will return from a one-match suspension.

Meanwhile, Bayern can advance if it beats struggling Villarreal at the Allianz Arena.

With the Champions League final to be played in Munich next May, expectations are high for Bayern.

"We have the quality, but you need luck, too," Bayern chairman Karl-Heinz Rummenigge said. "Pressure can be counterproductive in football."

Villarreal is without its top scorer after Giuseppe Rossi had knee surgery earlier this month, although the Yellow Submarine beat Real Betis 1-0 Saturday.