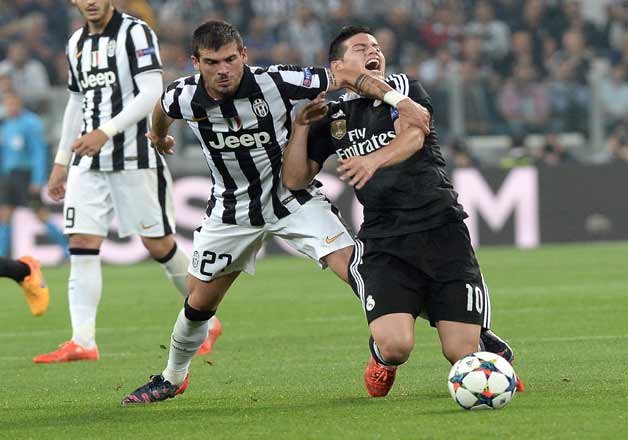 Madrid: With the Spanish league title essentially out of reach, it's time for Real Madrid again to prove itself in the Champions League.
The defending champions host Juventus on Wednesday in the second leg of the semifinals, trailing 2-1 from the opening match. A 1-0 win would be enough to advance on away goals.
Madrid will, as usual, look to Cristiano Ronaldo to provide the spark, while Juventus will again follow the lead of Andrea Pirlo.
"Juventus are back competing at the very highest level," Pirlo said, "and a Champions League win would be a dream for the fans, for the club, and for me personally."
Here are some things to know about Wednesday's match:
___
CASCADE OF CRITICISM
Real Madrid followed up its 2-1 loss at Juventus with a 2-2 draw against Valencia, a result that dropped the team four points behind leader Barcelona with two matches to go.
Those two results have led to harsh criticism of some of the team's top players, including goalkeeper Iker Casillas, defender Sergio Ramos and forward Gareth Bale.
Ramos, who was a key part of the defense that helped Spain win two European Championships and the 2010 World Cup, played in the midfield against Juventus to cover for the injured Luka Modric. The tactic didn't work well as the 29-year-old Spain international gave the ball away twice at crucial moments.
___
WOUNDED WARRIOR
Giorgio Chiellini finished the first leg with a blood-stained bandage wrapped around his head, and he's looking forward to more.
The Juventus center back was injured in a clash of heads with Bale. But that didn't stop him from putting in another stellar performance last week.
"We can't wait for Wednesday evening to come," Chiellini said. "This is certainly the most prestigious and important game I'll be playing in since I joined the club. I've been here for 10 years and it's been 12 since we last reached the semifinals.
"We've never been as close as we are now," he said. "The final is still a long way away and we'll need a super performance to get there."
The last time Juventus was in the semifinals, in 2003, it lost 2-1 at Madrid before winning 3-1 in Turin to progress to the final, where it lost on penalties to AC Milan.
Juventus also knocked Madrid out in the last 16 in 2005 and the two have met twice in the group stage since then.
"I've played at the Bernabeu twice," Chiellini said. "Let's hope it doesn't end like last year, when we lost and I was sent off, but instead like the first game, when we won thanks to (Alessandro) Del Piero's double."
___
TACTICS
Real Madrid coach Carlo Ancelotti, who said he grew to regard Pirlo "as a brother" during their time together at AC Milan, needs to decide how best to handle him on Wednesday.
On the other side, Ronaldo will be left to charge up the left flank and Bale will play on the right, but Ancelotti must decide if the job of sole striker will go to Karim Benzema, who is back in training after an injury, or Javier Hernandez.
Hernandez has played only 296 minutes in the Champions League and scored one goal, compared to six goals in 597 minutes for Benzema. Ronaldo has scored nine goals in 975 minutes.
___
POGBA'S BACK
Paul Pogba is back, but it remains to be seen if he is back to his best.
Pogba played for an hour in the 1-1 draw against Cagliari before being substituted, 52 days after tearing a right thigh muscle at Borussia Dortmund in the round of 16.
"I'm always ready," the France midfielder said. "I'm happy with my performance and with my level of fitness during the game. It was good. I did lots of running and I didn't feel anything so I'm on the right road."
Juventus coach Massimiliano Allegri, who has a full squad to choose from, had the luxury of resting most of his regular players on Saturday because the team won the Italian league the previous week. He is likely to stick with the same team that beat Madrid in Turin, bringing Pogba off the bench in the second half.
"Paul is the same as always, such a young lad with so much strength that he doesn't need to get back into the swing of things regardless of his two-month absence," Juventus defender Andrea Barzagli said. "The Cagliari match was an important test and the boss will decide for Madrid."
Pogba scored nine goals before his injury, including one in the group stage of the Champions League.