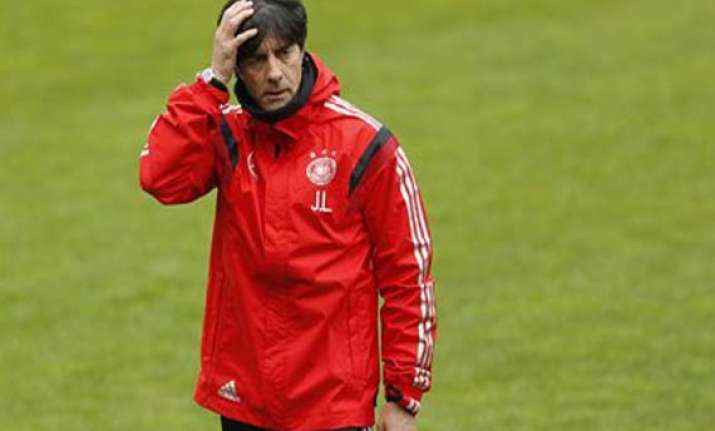 FRANKFURT, Germany: Germany coach Joachim Loew made a surprising last-minute change in his preliminary World Cup squad on Wednesday, calling up midfielder Christoph Kramer and dropping forward Andre Hahn.
Loew also cut three players from the group that will go to a training camp next week.   
Kramer, who plays for Borussia Moenchengladbach, made his international debut in the 0-0 draw against Poland on Tuesday.   
Experienced defender Marcell Jansen of Hamburger SV and Schalke midfielders Leon Goretzka and Max Meyer were placed on call, but will not travel to the camp in northern Italy and the World Cup in Brazil unless a member of the squad suffers an injury.   
Kramer was the unexpected beneficiary of the bland match against Poland. Loew said he needed back-up for the central midfield because several players are recovering from injury.   
"This decision has nothing to do with the performance of Andre Hahn, we were very pleased with him," Loew said.   
"The reasons are purely linked to the position. We have several central midfield players who have been injured recently and some who are coming off long layoffs. So we want to have another option and to be prepared for all eventualities. Christoph Kramer left a very good impression," Loew said.   
Hahn is nominally an attacking midfielder, whose speed makes him a perfect counter-attacking player. He led Augsburg with 12 goals this season.   
Kramer is a hard-working central midfielder who is known for covering a lot of ground. He could step in if Sami Khedira or Bastian Schweinsteiger fail to regain full fitness. Khedira has played one full match since a knee injury in November and Schweinsteiger is nursing a knee problem.   
The domestic season ends on Saturday with the German Cup final between Bayern Munich and Borussia Dortmund. A dozen Germany players are on both sides and will join the national team after the final.   
Loew decided to drop Jansen although the position of left back is seen as a problem spot on the team.   
"Marcell was injured in March in the friendly against Chile and although he is healthy again, his fitness is still not optimal, he hasn't played much," Loew said.   
As for Goretzka and Meyer, Loew said they were young players the future ahead of them.   
Germany plays Cameroon on June 1, after which Loew will announce his final 23-man squad. Germany will host Armenia on June 6, one day before flying to Brazil.   
Germany opens its World Cup campaign on June 16 against Portugal, then plays Ghana on June 21 and ends the group stage against the United States on June 26.