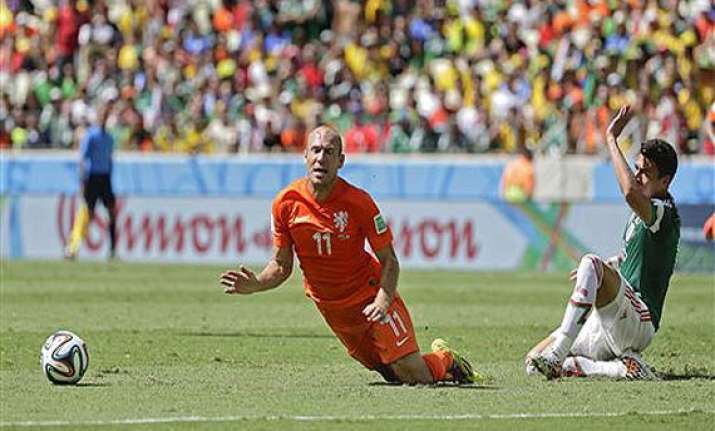 RIO DE JANEIRO :  Arjen Robben said sorry for one first-half dive against Mexico. Just don't expect another apology from the Netherlands forward just for being himself.Robben said Monday he won't change his playing style or personality after winning the decisive stoppage-time penalty in the Netherlands' 2-1 win against Mexico.
Robben provoked a furor after Sunday's second-round match by telling Dutch broadcaster NOS he had dived in a first-half incident, though not for the penalty when he was challenged by Mexico captain Rafa Marquez.   
"I don't change myself, that is my personality. I think it's good," Robben said Monday, appearing calm, smiling and relaxed at a team news conference.
The Dutch forward simply said he had been "very honest" in the television interview. 
"Sometimes you are punished for honesty," said Robben, acknowledging it had been "a stupid action" to fall without contact."There was one foul in the first half where I went to the ground because I thought he would tackle me. It didn't have any influence on the game," he said.
FIFA called for fair play on Monday, but declined to take any retrospective action for the dive or subsequent comments. FIFA spokeswoman Delia Fischer said its disciplinary committee only "will look into serious infringements."  
"We ask the players to play in the spirit of fair play," Fischer said. "It's up to the referees to manage a match." Asked if he feared disciplinary action from FIFA, Robben said: "Not at all. Why?"