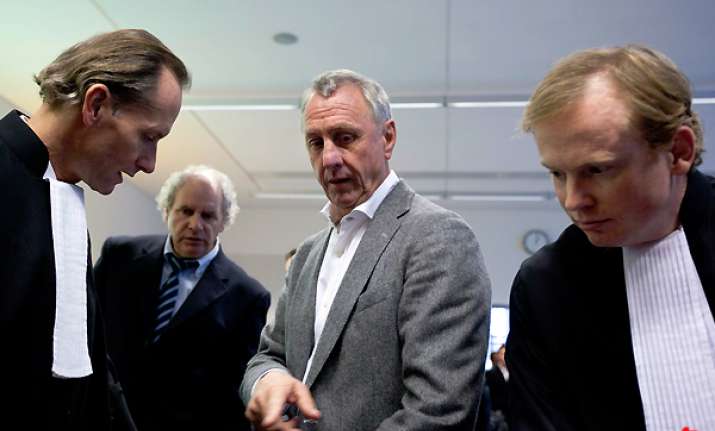 Amsterdam, Dec 13: A Dutch judge temporarily suspended the appointment of Louis van Gaal as Ajax CEO Monday to give shareholders at the four-time European champion a chance to vote on the move.

Club legend Johan Cruyff called the decision "a victory for footballers."

Four members of Ajax's five-strong supervisory board appointed Van Gaal and other directors in November without consulting the fifth board member, Cruyff.

Cruyff sought an injunction, arguing that the appointments clashed with his plan to rejuvenate Ajax's storied youth academy, known as The Future, by installing former star players like Dennis Bergkamp and Wim Jonk as trainers.

"The plan we have drawn up can be implemented, so it's ideal for everybody that supports football and Ajax," Cruyff said after the ruling.

Ajax said it will study the 15-page decision before commenting.

The court in Haarlem ruled that Van Gaal's appointment was legal, but suspended it until shareholders can vote on whether to back Cruyff or the remaining four boardmembers.

"The judge believes these steps are necessary to allow shareholders to decide on the 'Cruyff line' or the 'Van Gaal line,"' the court said in a summary of the ruling.

Shareholders were meeting Monday afternoon, but were not scheduled to vote on whether to support Cruyff or the remaining boardmembers.

A council made up of members of the club has called on all five to step down, but so far none has done so.

All key decisions about the running of the club must be ratified at a shareholders' meeting.

Ajax last won the Champions League in 1995 with a Van Gaal-coached team of young players, many of whom were trained at the Ajax academy, including Patrick Kluivert, Edgar Davids and Clarence Seedorf. Kluivert scored the only goal in Ajax's 1-0 victory over AC Milan in Vienna.

The team reached the Champions League final the following season, losing to Juventus on penalties, but since then has lost touch with big-spending European superpowers.

Last week Ajax crashed out of the Champions League after a 3-0 defeat by Real Madrid.