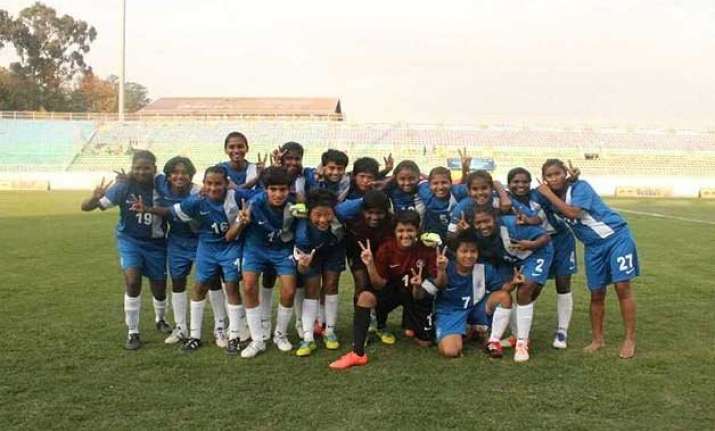 New Delhi: After a scary ordeal that lasted more than a day in quake-hit Nepal, the 23-member Indian Under-14 football team returned to the country safely on board an Indian Air Force aircraft here today.
Eighteen players and five support staff members, who had gone to Nepal to take part in an Asian Football Confederation regional tournament, landed at the Delhi airport at around 5:45pm on an IAF Aircraft C-17 today. They were among 237 persons who had boarded the aircraft from Kathmandu.
"Our ordeal is over and it is a huge relief for us. The girls and the officials have endured the most scary moments of our lives in Nepal. Yesterday in Nepal, we did not know whether we could reach home or not. Finally, we have reached here safely," coach Maymol Rocky told PTI minutes after landing at the Delhi airport.
The players and the officials will stay tonight at the Ibis hotel at the Aerocity near the IGI airport and will leave for their respective homes tomorrow.
The players were practicing at the Dasarath Stadium in Kathmandu for the third-place play-off against Iran when the earthquake shook the venue and adjoining areas yesterday. They ran to the middle of the pitch and remained there even as the stadium shook and buildings collapsed in the adjoining areas.
The scared girls and the support staff then decided to sleep in the open space at the hotel premises and not in their rooms at Hotel View Bhrikuti in Kathmandu last night for the fear of further aftershocks.
"We reached Kathmandu airport around 9am local time by a bus and then waited for some time while trying to find the embassy people. Then there was fresh tremors and that delayed our departure. But we finally boarded the Air Force plane and all are safe," Rocky said.
Earlier in the day, External Affairs Minister Sushma Swaraj said in a tweet, "We will evacuate India's U-14 girls football team on priority."
All India Football Federation President Praful Patel thanked the Government of India, the Air Force and Nepal Football Association for the safe airlifting of the players and support staff, and said it will contribute Rs 11 lakh to NEPA for earthquake relief.