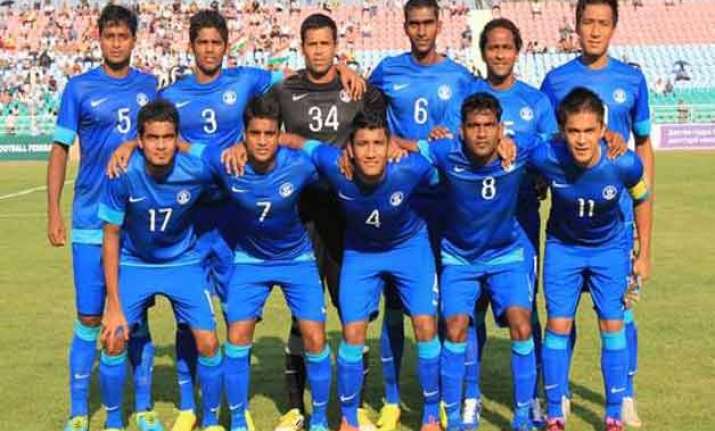 New Delhi: After successfully navigating the first round of qualifiers for the 2018 FIFA World Cup, India was on Tuesday drawn in Group D for the next phase of Asian qualifiers. 
The draw for the second round of the 2018 World Cup qualification was held in Kuala Lumpur and saw India tagged alongside the continent's highest ranked nation.
The official twitter handle of FIFA World Cup on the micro-blogging site twitter posted that India was grouped with Iran, Oman, Turkmenistan and Guam in Group D of the Preliminary Qualifier - Round Two of the 2018 World Cup and the 2019 Asian Cup respectively.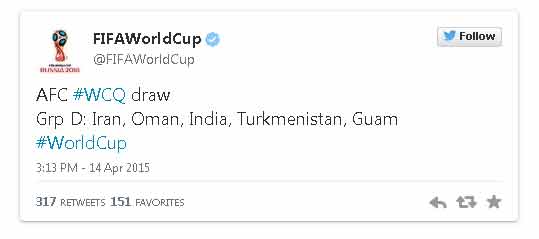 Iran are the highest ranked (40) Asian nation while Oman are placed 50 spots above Team India which are are ranked at 147. 
Turkmenistan (159) and Guam (179) are the two teams in the group who are ranked below India.
India  had beaten Nepal 2-0 on aggregate to book their place in the second round of the 2018 World Cup qualifiers which also doubles up as the qualification for the 2019 Asian Cup. 
India jumped 26 places to 147 in the latest FIFA world rankings, which were released last week, after getting past Nepal in the first round of the Asia World Cup qualifiers. India won 2-0 on aggregate thanks to a 2-0 victory on March 12 in Guwahati and a 0-0 draw on March 17 in Katmandu.
India had climbed to the 147th place from their lowly 173rd position in the recently released FIFA rankings and were placed in Pot 3 (Teams ranked 17th to 24th) which comprised of Afghanistan, Philippines, Palestine, Maldives, Thailand, Tajikistan and Lebanon. 
India will play the four teams at home and away. The Asian qualifying competition begins on June 11 and runs until March 29. The eight group winners and the four best second-placed teams will advance to Asia's final FIFA World Cup qualifying round. These teams will also qualify directly for the 2019 AFC Asian Cup. 
The next 16 highest ranked teams will advance to the third round of Asian Cup qualification while the remaining 12 teams enter the play-off round to contest the remaining eight spots. These 24 teams will then be divided into six groups of four to play home-and-away round-robin matches, and compete for the 12 remaining slots for the 2019 AFC Asian Cup.
Group A: U.A.E., Saudi Arabia, Palestine, East Timor, Malaysia
Group B: Australia, Jordan, Tajikistan, Kyrgyzstan, Bangladesh
Group C: China, Qatar, Maldives, Bhutan, Hong Kong
Group D: Iran, Oman, India, Turkmenistan, Guam
Group E: Japan, Syria, Afghanistan, Singapore, Cambodia
Group F: Iraq, Vietnam, Thailand, Indonesia, Chinese Taipei
Group G: South Korea, Kuwait, Lebanon, Myanmar, Laos
Group H: Uzbekistan, Bahrain, Philippines, North Korea, Yemen
India's fixtures in World Cup Qualifiers - Group D
As per the All India Football Federation (AIFF) website, India (147) play their first match at Home against Oman on June 11, 2015 and will play two games each against Iran (40), Oman (97), Turkmenistan (159) and Guam (175) at home and away. 
11 June - India vs Oman
16 June - Guam vs India
8 September - India vs Iran
8 October - Turkmenistan vs India
13 October - India vs Oman
12 November - India vs Guam
24 March - India vs Iran
29 March - India vs Turmenistan