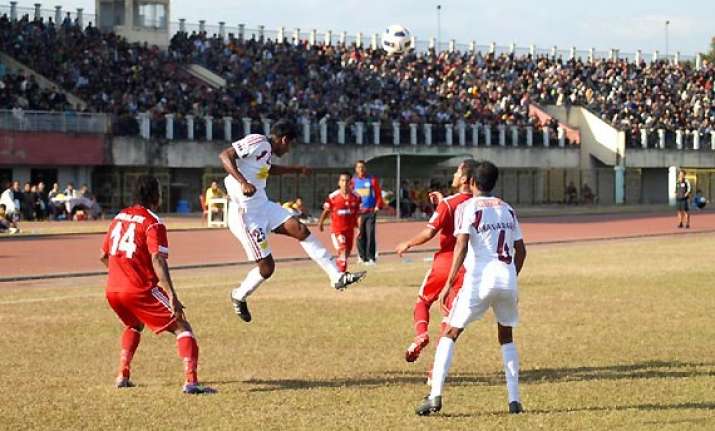 Panaji, Jun 8: A leading Goa soccer club today slammed the All India Football Federation (AIFF) decision to bring in far-reaching changes in the existing I-League format and promote an IPL-style tournament.
By brining in changes in the I-League format, introducing a cap on the number of teams, permitting and actively promoting an IPL-style franchise league bang in the middle of the football season, AIFF will be sounding death knell for club football in India, said Peter Vaz, President of Sporting Clube de Goa.
"Crucial decisions were taken by AIFF at an emergency meeting (last week). One fails to understand what was the need of taking such decisions by bypassing the AIFF Executive Committee and the clubs.
"The I-League has been broken up into Western and Eastern conference without any consultation whatsoever with the clubs who are the main stake-holders," he said.
The apex football body, at the emergency meeting, decided to introduce the USA's Major League Soccer-style conference format in a bid to reduce the cost of holding the I-League, besides also changing the Federation Cup from knockout to home-and-away format.
"When the AIFF is getting its entire revenue from the I-League marketing rights, why was it afraid to call a meeting of the I-league Committee, where all clubs are represented, to discuss the changes in the I-League structure? This shows AIFF's lack of respect for the clubs who are the backbone of Indian football," stated Vaz.
At a time when we are trying to emulate the best practices in the sport, introducing the conference model is nothing but a retrograde step. This will devalue the league and convert it into a regional tournament, making it harder to sell the event to sponsors and broadcasters, he maintained.
It is clear the sole purpose of changes in the league structure is to accommodate IMG-Reliance, AIFF's marketing and commercial partner, and their franchise league, Vaz said.
AIFF and IMG-Reliance have decided to organise the IPL-style tournament early next year. I-League clubs have opposed the event.
"By sanctioning and actively promoting a parallel franchise league, AIFF is creating a monster which will devour the I-League and finish the existing clubs in India."
"Nowhere in the world does such a league exist and that too bang in the middle of the country's premier league," the Goa club President said.