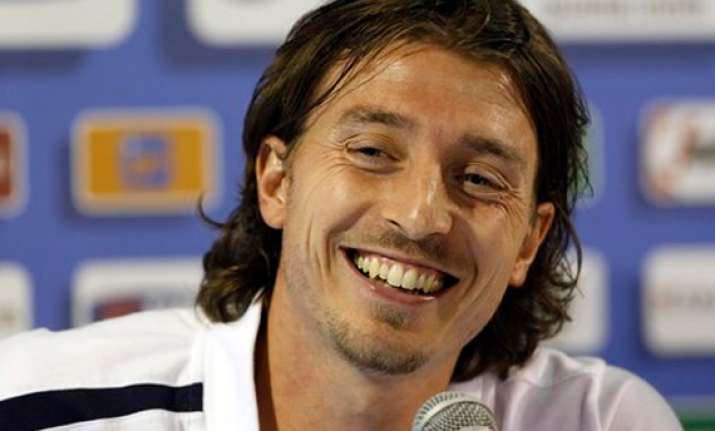 Poland, Jun26:  For Italy midfielder Riccardo Montolivo, Thursday's European Championship semifinal against Germany is a personal derby.
Montolivo's mother is German, his father is Italian and he wears the flag of both nations on his football boots.
"Those are the shoes I've worn ever since I started playing football, so I'm not changing them now.
"It's definitely a special match," Montolivo added. "I can't hide my origins. Part of me is German. I spent every summer in Germany until I was 15 and I'm still in touch with a lot of friends there. But I was born and raised in Italy, so I feel 99 percent Italian."
The German side of Montolivo's family comes from the northern state of Schleswig-Holstein, which borders Denmark. He grew up near Bergamo, in northern Italy.
Montolivo speaks German fluently, and even acted as his own translator when a German journalist asked him a question during a press conference Tuesday.
Asked what part of his personality is German, Montolivo said his "coldness, both on and off the pitch," adding with a smile, "apart from the penalty."
Montolivo was referring to the penalty he missed in the shootout win over England in the quarterfinals. After missing wide left, Montolivo buried his face in his shirt.
"When you miss you feel like the entire world is weighing you down," Montolivo said. "But when I returned to the middle of the pitch I was calm and confident. I was sure my error wouldn't have been decisive."
In fact, while Wayne Rooney then put England ahead, England failed to convert its next two penalties, setting up the winning strike from Alessandro Diamanti.
More attack-minded than most of Italy's midfielders, Montolivo also struggled to make an impact during open play against England, but he's relishing facing Germany.
"The other night there wasn't much space," he said. "But now we're facing a squad that likes to play more openly. We'll probably have more trouble in defense, but find more space in attack."
While Montolivo is often labeled a playmaker, his position just behind the forwards can't really be classified.
"I agree, I'm not a playmaker," he said. "I've never played there in my career, I've always been a sort of winger. With the national team my position is similar to that of a playmaker but it's not quite the same.
"It's a difficult position to play," Montolivo added. "You've got to support the strikers and play between the lines."
Having just concluded his seventh season at Fiorentina, the 27-year-old Montolivo signed a four-year deal with AC Milan last month—ending speculation he might join a German club.
It was current Italy coach Cesare Prandelli who brought Montolivo to Fiorentina, and the pair spent five seasons together at the Tuscan club until Prandelli signed on with the Azzurri in 2010.
Montolivo has scored just one goal in 35 appearances with Italy, having found the target in a 2-1 friendly win over Spain last August. He often comes close to scoring with long shots from beyond the area.
Montolivo first faced Germany in a 1-1 friendly draw last year, and he's aware that his mother's nation has never beaten the Azzurri in a major tournament. Most recently, Italy beat Germany 2-0 in extra time in the 2006 World Cup semifinals.
"I don't think they have an inferiority complex," Montolivo said. "But I think they respect us more than other squads, and they'll respect us on Thursday, too, even though they're a very strong squad."
Needless to say, Montolivo also has a certain regard for Germany too.