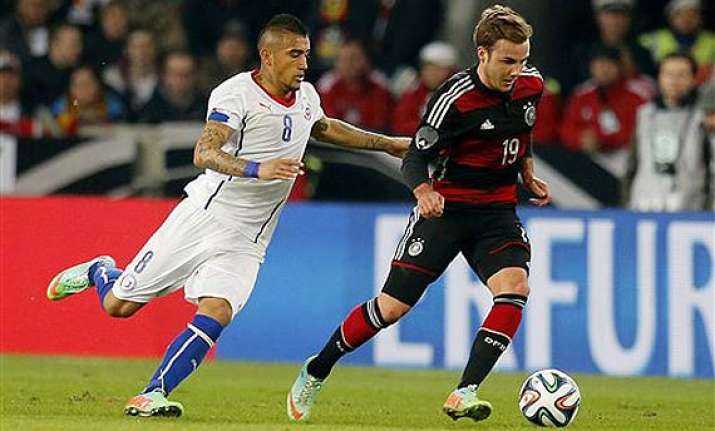 Berlin:  With less than hundred  days left for the 2014 soccer world  cup the German team overcame a resilient Chile 1-0 in an international friendly in Stuttgart.
Bayern Munich's Mario Goetze helped the Germans to snatch a neat victory over Chile Wednesday in front of 54,449 spectators on home soil, reported Xinhua.
From the kick off, Chile tried to take the reins and to control the proceedings on the pitch. The visitors were successful with their pressing and offensively minded strategy, as Germany needed some time to establish their rhythm.
Chile's Arturo Vidal nearly stunned the hosts with the opener but his header missed the top right of the goal at the eighth minute. Germany were busy to keep Chile at a distance, although the South Americans lacked in efficiency in Germany's goal.
However, it were the Germans who flabbergasted the visitors out of the blue when Mario Goetze finished the first chance by the Germans from eleven meters into the top right following an assist by Mesut Oezil at the 16th minute. Germany's counter attack via Bastian Schweinsteiger, Oezil and Goetze was too fast for Chiles defence.
After the restart, things started where they left off. Chile pressed for the equalizer meanwhile Germany lurked for second goal. Nonetheless, Germany were unable to overcome Chiles defence for a second goal meanwhile Chile failed to make use of their chances.
"We have seen how good Chile is. It was incredibly difficult to play against this team. We were unable to implement our strategy and we have lost too many balls," Germany coach Joachim Loew said.