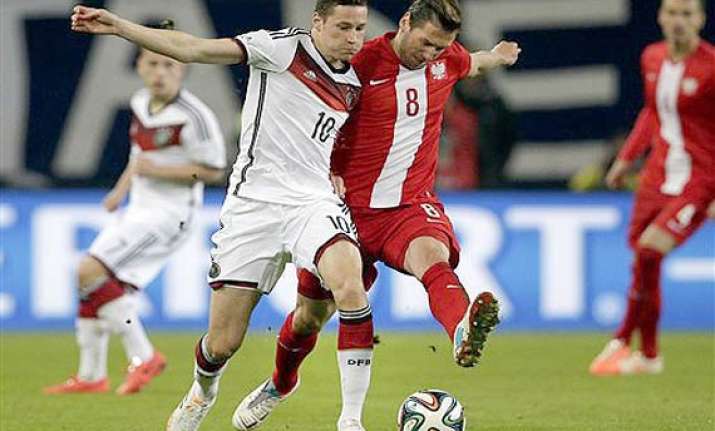 HAMBURG, Germany: Germany and Poland's second-string sides played to a lackluster 0-0 draw on Tuesday that gave Germany coach Joachim Loew few insights into possible World Cup candidates.
Germany began with eight newcomers and used four more as substitutes in a match that had little passion.   
Because of various club commitments, both teams missed their top stars. The upcoming German Cup final meant that a dozen Germany players were missing, as well as Poland striker Robert Lewandowski.   
From Loew's 30 players in the preliminary World Cup squad, only 10 were in Hamburg. Not all of the newcomers are even in the preliminary squad.   
Loew is expected to cut four of five players from the 30-man squad before the team travels to a training camp in northern Italy later this month.   
After the match, Loew gave no hint about who might be cut.   
"I enjoyed the game because we had so many newcomers," Loew said. "The youngsters did their job well. We were well organized and we tried to attack."   
Poland, which did not qualify for the World Cup, defended and tried to counter-attack.   
The game produced few chances, with Antonio Ruediger's header in the first half being cleared off the line by Slawomir Peszko.   
After the break, Max Meyer shot into the arms of Poland goalkeeper Artur Boruc, while Michal Zyro sent a header wide of the post.   
Germany could have won it in the 84th with Andre Hahn's half-volley inside the penalty box, but Maciej Rybus cleared with his head.   
The Hamburg stadium had a lot of empty seats with a crowd of 37,000, many of whom booed the two teams off the field.