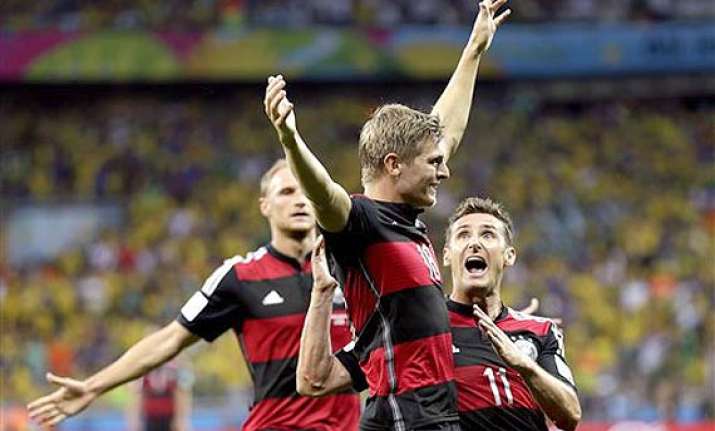 RIO DE JANEIRO :  Brazilians expected a challenge in facing a powerful German team at the World Cup but none could envision such calamity. A drenching, tropical rain and an early onslaught of goals by Germany deflated the Brazilian football faithful who packed onto the golden sands of Copacabana beach Tuesday to watch the semifinal match.
Five early goals by Germany were greeted by mass groans and then eerie quiet from nearly the entire Fan Fest  except for a small contingent of about a dozen German supporters, who burst into excited cheers.   
With Brazil's star striker Neymar out injured and captain Thiago Silva suspended for the semifinals, it quickly became clear the Brazilians couldn't handle the Germans."The problem is psychological," said Brazil fan Fabio Fontes. "It would be normal for the team to lose against Germany, but not in his fashion."   
To make matters worse, at the Fan Fest viewing area on Copacabana beach, hundreds of people stampeded out as a gang of young men carried out a so-called "arrastao" mass robbery, running through crowd, inciting panic and snatching necklaces and bags along the way. That, coupled with the crushing game, sent many fans heading home.   
If Brazil is tossed out of its own World Cup in such rough fashion, "you are going to have the most depressed country ever," added Pablo Ramoz. Brazil has spent billions of dollars preparing for the tournament, with expectations that home advantage could deliver Brazil a sixth title, but also spending that ignited intense anger and protests against the World Cup, with demonstrators lamenting the costs when the nation is saddled with woeful public services.   
Few thought Germany's stomping of Brazil would spark renewed mass protests -- but it's certain to put a severely sour taste back into the mouths of the nation's fans. In Sao Paulo, Brazil's biggest city, thousands gathered in the Bohemian neighborhood of Vila Madalena, the streets carpeted with yellow, green and blue  the colors of the Brazilian flag. "What shame, what shame!" one woman cried out as a man nearby was banging his head against a bar table.   
After Germany scored an early goal samba groups simply stopped drumming in apparent shock. Silence overtook bars as fans stared sadly at TV screens in disbelief. Before the match, there was great hope.   
"It's exciting and scary," said Alan Ferreira, a 41-year-old publicist decked out in a yellow track suit and carrying a replica of the World Cup trophy in one hand and a megaphone in the other. "Every Brazilian is feeling this strong desire to win."   
At the Mineirao Stadium where the match was played, people wore Neymar masks to honor the 22-year-old star and fans of both teams were mingling.
"We heard so many bad things about Brazil before we came, but it's been an incredible experience so far," said 29-year-old Michael Beussemer, who has been in the country for more than two weeks following Germany at the World Cup. "The fan atmosphere has been great, we can't complain about anything. Everyone is hyped up for this match, it's just great to be able to be here."   
The Brazil-Germany match is the last of the six World Cup matches held at the Mineirao Stadium.