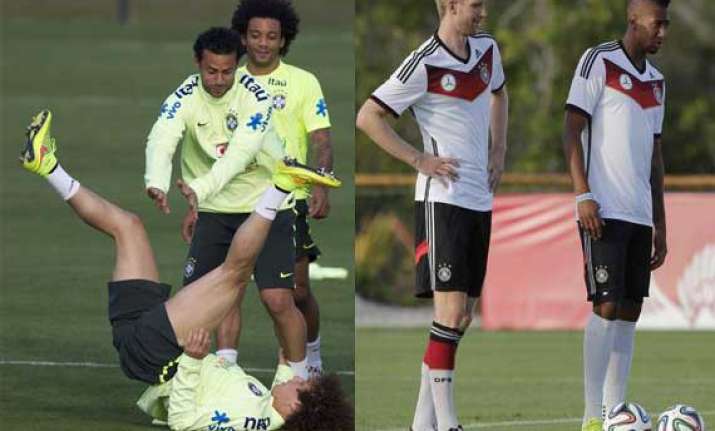 Belo Horizonte (Brazil): As Brazil and Germany prepare to do battle in their World Cup semi-final here tomorrow, old stereotypes of both countries' football philosophies are being rewritten.
Amazingly for two World Cup powerhouses with 24 semi-final appearances, this will be just their second meeting in the competition after the 2002 final.  Back then a rugged German side that battled it's way to the final with a series of 1-0 wins on the back of the best goalkeeper in the tournament, Oliver Kahn, faced a Brazil side containing a magical front three of Ronaldo, Ronaldinho and Rivaldo.
That night an uncharacteristic Kahn mistake put Luiz Felipe Scolari's Brazil on their way to a fifth title.
However, the only constants from 12 years ago may be that Scolari is back as Brazil boss and Germany still have the best 'keeper in the tournament in Manuel Neuer.
Even Neuer represents the German's style shift in the past decade with his sweeper-like ability to flee from his box and become an extra outfield player in building the play from the back.
Germany have played 500 more successful passes than anyone else in the competition and more than 1,000 more than Brazil, who still lag behind Chile despite having played a game more.
Since committing to attack when hosting the tournament in 2006, Germany have scored 40 goals in the last three World Cups helping them a record run of four consecutive semi-finals.
Their passage to the last four in Brazil by beating Algeria and France has also seen them lay to rest some ghosts of German football's less than glorious historical moments.  West Germany's perceived collusion with Austria to knock out the Algerians and Harald Schumacher's assault on France's Patrick Battiston as they reached the final 1982 was seen as the height of their win at all costs mentality.
The German sides of recent years will be much more fondly remembered by the football world at large, yet that attractive football hasn't got them over the line in the final stages.  Defeat in the final of 2002 was followed by semi-final defeats in 2006 and 2010.
Brazil's approach to hosting the tournament has been rather different.