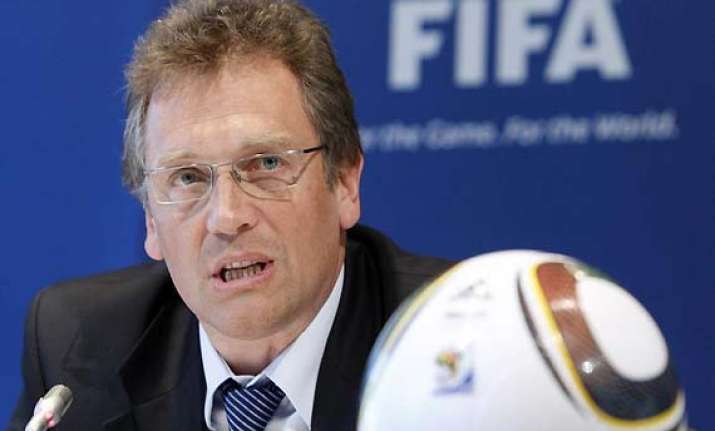 Tokyo, Dec 5: FIFA will introduce goal-line technology for the first time at the Club World Cup in an effort to accurately judge when balls cross the goal line.
The magnetic-field-based system of GoalRef will be used at Yokohama Stadium while Toyota Stadium will be equipped with the camera-based Hawk-Eye system.  
The seven-team tournament begins on Thursday when New Zealand's Auckland City faces Japan's Sanfrecce Hiroshima at Yokohama Stadium.
"Tomorrow will be the first time that goal-line technology will be officially used in a game," FIFA secretary-general Jerome Valcke said Wednesday. "The tests are done; and the installation tests were successful."
Hawk-Eye is a British camera-based system already used in tennis and cricket. GoalRef is a Danish-German project using magnetic sensors to track a special ball.
Before each match, officials will test the system is working in both goals.
The referee will continue to have full autonomy in making any final decision during the match, using goal-line technology as an additional aid.
The data from the Club World Cup will be used to help FIFA decide, by the end of March, which technology it will use for the six venues at the 2013 Confederations Cup in Brazil. The Confederations Cup system will then be used at the 2014 World Cup.
"The referee has the final decision," Valcke added. "The technology won't change the speed, value or spirit of the game. There is no reason to be against this technology."
FIFA decided to introduce both systems after they won "unanimous" support from the International Football Association Board panel. FIFA president Sepp Blatter was a member of the IFAB panel.
Blatter was initially opposed to the idea of using goal-line technology but changed his stance two years ago when he saw England denied a clear goal by midfielder Frank Lampard against Germany at the 2010 World Cup.
Two days later, Blatter said FIFA must reopen the debate, though insisted it must involve only goal-line decisions. Video replay remains off limits for judgment calls, such as penalties or offside.