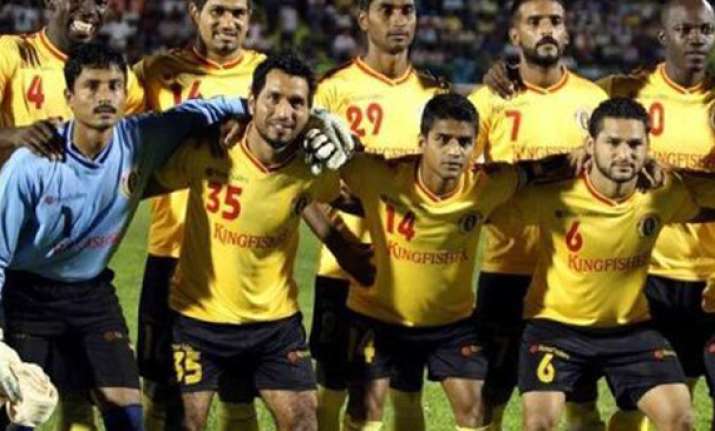 Siliguri, Sep 25: East Bengal came back thrice to beat qualifier Kalighat Milan Sangha 4-3 in the concluding Group C match round of the 34th Federation Cup football tournament at the Kanchanjungha Stadium Tuesday.
The laboured win helped East Bengal gain the required points as it ensured the last semi-final berth of the tournament.
East Bengal will meet Churchill Brothers in the first semi-final Thursday while holder Salgaocar SC and Dempo SC battle out in the other match a day later.
Making a haphazard beginning quite contrary to their approach, East Bengal conceded two goals within the first 15 minutes. Kalighat MS enjoyed the confusion in territory of its famed opponent.
Nigerian James Giblee and Tanmoy Kundu found the target in tandem in the 11th and 15th minutes. A scattered East Bengal defence floundered in the absence of the regular centre-backs Uga Okpara, , making it easier for Kalighat to attack at will.
East Bengal recovered from the initial setback as its young striker Manandeep Singh scored two quick goals in the 22nd and 28th minutes to restore parity. But Kalighat rebounded with greater intensity and regained the lead off a nice solo from striker Christopher Chizoba in the 40th minute.
Nigerian Edeh Chidi rescued East Bengal in the injury time as he scored from the spot after being brought down by the Kalighat goalkeeper Souvik Mondal.
Aiming to stem the rot after the break, East Bengal coach Trevor Morgan reintroduced Okpara and Gurwinder, who stuck to their task quite commendably. Earning the space to attack, East Bengal made numerous forays in the second half but both Chidi and Manandeep failed to regain the touch.
East Bengal found the winner with the help of the second penalty of the match when referee Rahul D'Sa hauled up the Kalighat defender Babu Mondal for an infringement on Chidi inside the box. The Nigerian striker successfully converted from the spot to help last year's runners-up make it to the last-four stage.
Meanwhile, in another encounter ONGC ended Sporting Clube de Goa semi-final hopes beating them 2-1 at the SSB Ground.
The newly promoted I-League side ONGC, which beat Kalighat MS before narrowly losing to East Bengal in the previous, regained their winning form to finish a creditable second.
David Lalrinmuana scored from a free-kick to give ONGC the lead early in the first half before Dawson Fernandes scored a penalty in the 62nd minute draw level for Sporting Clube. Tarif Ahmed found the mark a minute from time to ensure the win for ONGC.
East Bengal topped the group with seven points while ONGC came with six points. Sporting Clube was pushed to the third position with four points while Kalghat MS ended without a point losing all its matches.