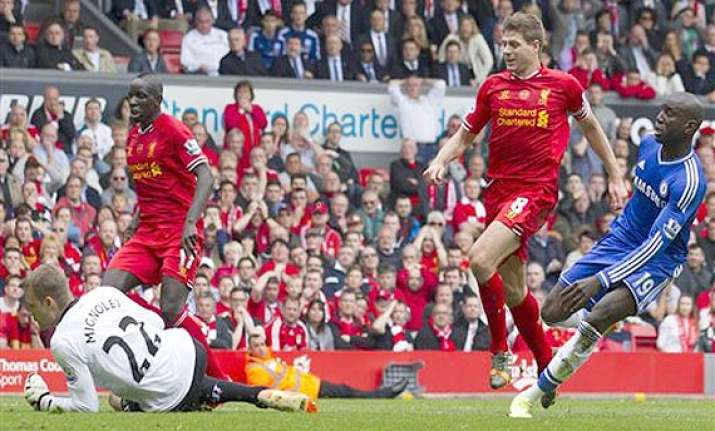 LONDON :  For once, the biggest supporters of Everton will be on the red half of Merseyside this weekend, with Liverpool's Premier League title hopes on the line.
If Everton can extend its four-year winning run at home to Manchester City, the balance of power in this enthralling title race will swing back in favor of Liverpool.   
Everton goalkeeper Tim Howard noted on NBC that the "first time in a long time everyone will be wearing blue in the city."   
Although Liverpool is top, despite losing to second-placed Chelsea on Sunday, City is in the box seat in third place due to its game in hand that could eradicate a three-point gap to the summit and put it ahead on a superior goal difference.   
If City falls short at Goodison Park, Liverpool would be guaranteed its first title since 1990 if it completes the season with victories against Crystal Palace and Newcastle.   
Here are five things to know about this weekend's matches:
CITY'S SCORING:
Just like in 2012, the title could be decided on goal difference -- with City the beneficiaries once again.
"The most important thing we've learned from that experience was the team spirit to keep fighting until the end," City defender Pablo Zabaleta said.
After the trip to Everton, City has home games against relegation-threatened Aston Villa and West Ham, which is unlikely to have anything to play for on the final day of the season.
The loan system could work to City's advantage on Saturday. Midfielder Gareth Barry is ineligible to play for fifth-place Everton against his parent club, much to Roberto Martinez's annoyance as they look to secure a Europa League spot.
"I don't see it as a healthy way to treat a loan player in not letting him play against his parent club," the Everton manager said.    
CHELSEA'S CHASE   
The loan system could ensure Jose Mourinho's title hopes stay alive. Despite Chelsea's strikers struggling for goals, Romelu Lukaku has spent the season at Everton.   
Now Mourinho needs Lukaku to score against City on Saturday to ensure his first year back at the west London club doesn't end without a trophy. Should City and Liverpool lose, a victory over Norwich on Sunday would see Chelsea go into the final round of matches with a one-point lead at the top.   
"There is still a chance so we can't be sorry for ourselves," goalkeeper Mark Schwarzer said after Chelsea's Champions League semifinal loss to Atletico Madrid.   
Chelsea's attacking shortcomings were highlighted by Atletico, three days after pulling off the surprise win at Anfield with well-disciplined defensive tactics.
"We have to pick ourselves up from this disappointment and realize we must keep banging on the door with the game against Norwich," Schwarzer said.   
ARSENAL'S DIMINISHED AMBITIONS   
Having been well-placed to end a decade-long Premier League title drought before injuries limited Arsene Wenger's options, Arsenal is now satisfied just to secure a place in the top four. Qualification for the Champions League for a 17th consecutive year would be wrapped up with a game to spare if Everton fails to beat City or Arsenal defeats West Bromwich Albion on Sunday.   
"This year, with a couple of injuries we struggled heavily but we regrouped very well," Arsenal defender Per Mertesacker said. "To secure Champions League football was another test for us. The fans wanted us to finish further up, we were top of the league for a long time and everyone dreamt about getting the title, but it takes more than just staying at the top until the winter period."
   The season could still end with a first trophy since 2005 if Arsenal beats Hull in the FA Cup final.   
SUNDERLAND'S SURVIVAL   
Having been bottom of the league before routing relegation-rival Cardiff 4-0, Sunderland is now out of the drop zone and should survive by winning two of its last three matches.   
The first of the trio is against a Manchester United side with little to play for in seventh place but everything to prove about its enduring strengths as it looks to attract a successor to David Moyes.   
If Ryan Giggs follows up last weekend's emphatic victory over Norwich with another fine display as interim manager, the clamor for him to get the job permanently could grow.