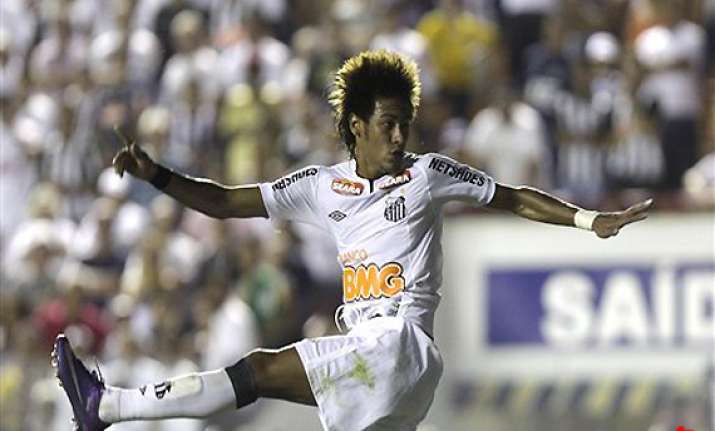 Sao Paulo, Feb 10: Neymar says he is still far from his best despite coming off a hat trick in his best performance of the year.

Neymar scored three second-half goals and set up another in Santos' 4-1 win over Botafogo in the Sao Paulo state championship on Thursday, but he left the field admitting there is still room for improvement.

The Brazil striker said he is capable of doing more and will work hard to reach his top form as soon as possible in 2012.

"I'm still feeling out of rhythm and I'm not as in form as I wanted to be," Neymar said. "I want more and I will keep working hard to always keep improving."

Neymar scored his 100th career goal on his 20th birthday last Sunday but was yet to play well with Santos this year. He struggled again early against Botafogo in Ribeirao Preto on Thursday but came through with a top-notch performance in the second half.

With Santos 1-0 down, Neymar scored his first goal with a header in the 31st minute, then added another with a penalty kick in the 33rd and scored his third from inside the area two minutes into injury time.

Before the match was over, he still had time to make a nice through-pass for Felipe Anderson to score the fourth.

"This is what Neymar is all about," Santos coach Muricy Ramalho said. "He can change the game at any moment. He didn't play well in the first half but made the difference in the second. When a player of this quality is on the field, anything can happen. He showed it tonight."

It was only Neymar's third match this year because he and most of Santos' starters returned from vacation later than the rest of the team after playing late into December in FIFA's Club World Cup. Santos lost the final to Barcelona in a match in which Lionel Messi outplayed Neymar from the start.

Thursday's match also marked the debut of Uruguay right back Jorge Fucile, who was signed with Santos to help the team defend its title in the Copa Libertadores, Latin America's most important club competition.

Muricy praised Fucile's performance after he came off the bench in the second half. The coach said Fucile will probably start in the Copa Libertadores against The Strongest of Bolivia next Wednesday.

Also Thursday, Ronaldinho missed a penalty kick but Flamengo was still able to defeat Madureira 1-0 in the Rio de Janeiro state championship. Ronaldinho was briefly jeered by fans at the Engenhao stadium after another disappointing performance.

Club directors, meanwhile, said they had paid what was owed in salaries to the two-time FIFA player of the year, something that had prompted Ronaldinho to makes threats that he would not to play until getting paid.

On Wednesday, Uruguayan striker Sebastian "El Loco" Abreu scored twice in Botafogo's 5-0 routing of Olaria, while Argentine striker Hernan Barcos made his debut with Palmeiras in the second half of the team's 3-2 win over XV de Piracicaba in the Sao Paulo state championship.

The Brazilian football season does not follow the European calendar and starts in the beginning of the year. Regional championships in the 26 states take place in the first few months, with the Brazilian league running from May until December.