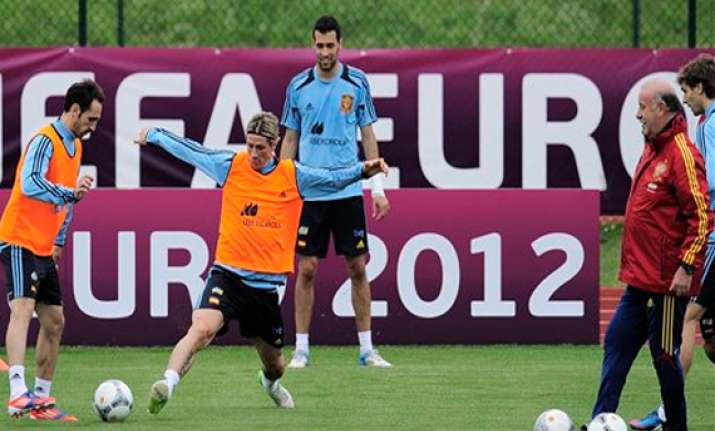 Poland, JUN 17:
Croatia is under no illusions about what it will take to beat Spain and finish as the Group C winner at the European Championship.
"What I can say is that we will need to play the best game of our lives," Croatia coach Slaven Bilic said before Monday's match at the Arena Gdansk.
Spain and Croatia both have four points with a draw likely enough to secure a place in the quarterfinals, although that would also depend on the scoreline if Italy beats Ireland, which is already eliminated.
Croatia is confident, although it must remain disciplined in defense as the defending champions come into the match after a 4-0 rout of Ireland.
"We will have to be concentrated for 90 minutes," Bilic said before the first matchup between the teams at a major championship. "We have to work as a team and we're going to have to take our chances because we are going to have some chances."
Spain's runaway victory over Ireland buoyed the confidence of striker Fernando Torres and forward Cesc Fabregas, who have two goals apiece after leading differing attack formations in the opening matches.
Fabregas started in place of Torres in the opening draw with Italy, but coach Vicente del Bosque will probably prefer Torres, a traditional striker, over a six-man midfield attack for the second straight game. Or, perhaps, Del Bosque will come up with something different for the ever-evolving attack of the world champions.
Tournament standouts David Silva and Andres Iniesta have pulled the strings from midfield as Spain looks to follow up their masterful passing show against the Irish when they completed 779 passes and shot 26 times.
"They're all class players, it's really hard to stop them," said Bilic, who is looking to guide the Croats into the quarterfinals of the continental tournament for the second straight time before stepping down to assume control of Russian club Lokomotiv Moscow.
Croatia's attack is based around midfield playmaker Luka Modric, while striker Mario Mandzukic is joint-top scorer at the tournament with three goals.
"I think we can make a surprise," Croatia striker Eduardo said. "Ireland had two three great chances to score (against Spain), so we have good chance to score against Spain."
A victory would mean first place and an automatic trip to Donetsk to play the Group D runner-up. Should Italy beat Ireland, a draw here would still be enough to guarantee both reach the knockout stages, as long as it is by a scoreline of at least 2-2.
Italy, which has two points, has sent out clear messages that it expects World Cup champion Spain to play with honor. It dreads a repeat of Euro 2004 when Sweden and Denmark drew 2-2 to leave Italy out in similar circumstances.
Should Italy win, a 0-0 draw would eliminate the Croatians, while if it's 1-1, then it would depend on Italy's margin of victory over Ireland.
Spain, which is vying to become the first nation to win three straight major titles, vowed to go for a win.
"We are sportsmen and the Croats and us will both go out to win," Del Bosque said. "There is no question about such a result. Nothing has been calculated. We should only be interested in winning."