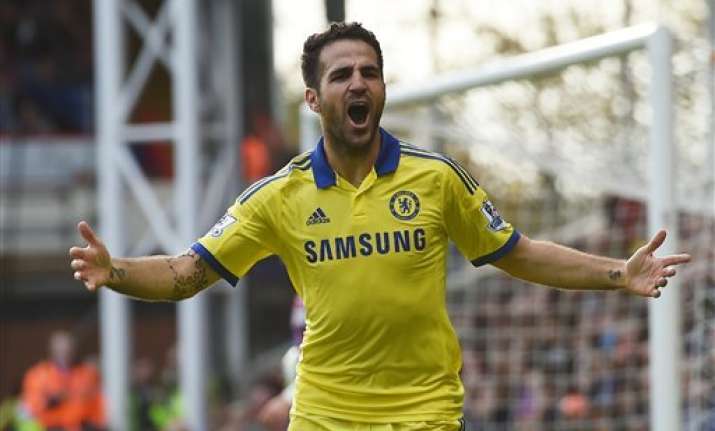 The likely absence of Diego Costa should not stop Chelsea staying in command of Group G of the Champions League, with the Premier League leader a big favorite to beat Maribor at Stamford Bridge on Tuesday.
   
Chelsea manager Jose Mourinho is unsure when Costa will be back after the striker returned injured from international duty after playing back-to-back games for Spain.
   
Didier Drogba or Loic Remy will fill in if Costa is not available for Chelsea, which is top of its group with four points from two games. Maribor and Schalke have two points and Sporting has one.
   
Schalke hosts Sporting in the other game, with both teams seeking a first win.
   
Here are some things to know about Tuesday's matches:
MOURINHO GRIPE
   
Costa has been carefully managed by Mourinho in his first season at Chelsea, with the striker hindered by persistent hamstring problems that affected him at the end of last season at Atletico Madrid.
   
Mourinho does not believe Costa is fit enough to play more than one game a week, so was unhappy to see him play the full match against Slovakia and 82 minutes against Luxembourg in the recent international break for European Championship qualifiers.
   
Costa, who has scored nine goals in his first seven Premier League games, was not even a substitute for Chelsea's 2-1 win over Crystal Palace on Saturday -- a result that kept the team top of the standings and preserved its unbeaten start to the season.
   
"He will play for me when he has free time from the national team," Mourinho said sarcastically after the Palace match.
   
"I think Diego will be in great condition again in mid-November, to be back for the national team. That is for sure."
   
Remy replaced Costa against Palace, but Drogba started in the 1-1 draw with Schalke in their opening group match in the Champions League and could be preferred again in Europe.
 
FAMILIAR VISITORS
   
Slovenian champion Maribor has traveled to England in each of the last three seasons in European competition -- and lost each time.
   
And none of its opponents had the pedigree of Chelsea.
   
Birmingham, Tottenham and Wigan all won in the Europe League against Maribor, whose record in six games against English opposition is one win, one draw and four losses.
   
Maribor's last trip to Britain was successful, though -- it beat Scottish champion Celtic in the Champions League play-off to claim a place in the group stages.
   
And Ante Simundza's side has started Group F well, drawing 1-1 at home to Sporting thanks to a stoppage-time equalizer and then by the same score away to Schalke.
   
SCHALKE'S FRESH START
   
Confidence is back at Schalke under new coach Roberto di Matteo following the sacking of Jens Keller after a shaky start to the season.
   
Schalke eked out a hard-fought 2-0 win over Hertha Berlin in Di Matteo's first game in charge on Saturday, when captain Benedikt Hoewedes marked his comeback from a hip injury with a commanding performance.
   
"We said we wanted to take small steps forward. We managed that," Hoewedes said.
   
Schalke had conceded in all but one previous game this season.
   
Di Matteo, who led Chelsea to the Champions League title in 2012, had said he wanted to improve Schalke's defense.
   
"For us it was important first to get three points. Otherwise, it was good not to concede again. I'm very satisfied with the defense," Di Matteo said. "We're going to keep working on our organization and try to win more games."
 
IMPROVING NANI
   
Sporting will be looking to Nani to continue his impressive recent form that has seen the Portugal winger score four times in his last six matches.
   
A regular run of games appears to be bringing the best out of Nani, who returned to his native country this season on a year-long loan from Manchester where he was no longer first choice after seven years at Old Trafford.
   
Nani's latest goal came in a 3-1 win against Porto in the third round of the Portuguese Cup on Saturday, with Sporting condemning its big rival to a first loss of the season.
   
Denied victory by a late equalizer in its opening group match against Maribor, Sporting lost 1-0 to Chelsea in its second game.