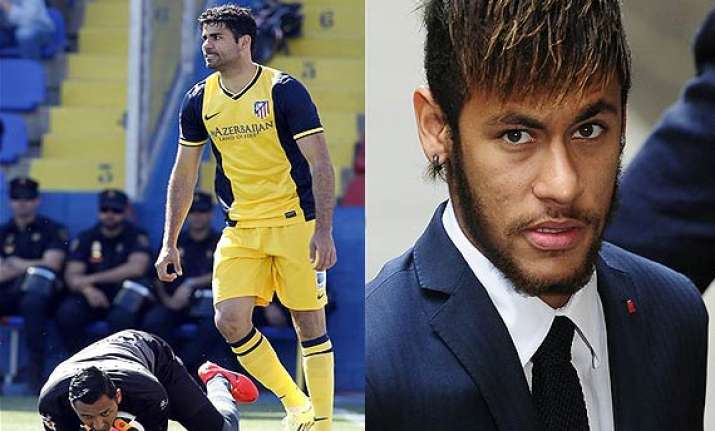 Madrid : Who is fit and who has to watch from the sidelines will be key factors when the destiny of the Spanish Primera Liga title is decided in the Camp Nou Stadium Saturday night between FC Barcelona and Atletico Madrid.
Atletico travel to Barcelona knowing that a draw will see them crowned as champions for the first time since 1996, while Barcelona have to beat Atletico to retain their crown, reports Xinhua.
The two teams have already met five times this season with those games producing four draws and a narrow 1-0 win for Atletico, which saw them knock Barca out of the Champions League quarter-finals.
Last weekend saw Atletico draw 1-1 at home to Malaga without striker Diego Costa, who has been struggling with muscle problems in recent weeks.
Costa's replacement, Adrian Lopez came within inches of winning the game and the title in the 95th minute and they'd still be celebrating in the Vicente Calderon Stadium were it not for a fingertip save from Malaga keeper Willy Caballero. But if Costa is fit, he will play.
The good news for Atletico fans is that Tuesday saw the Brazilian born Spain international return to full training and everything points to him being available to try and bully his way through the Barca defence.
Meanwhile, Neymar could be available to play the decisive match for Barca. The Brazilian has been out for nearly two months with a foot injury, but declarations published in an internet chat Tuesday, in which he said he was "on the final straight of the recovery and back in training", have increased speculation that this season's star signing in the Camp Nou could play a role.
However, with Neymar things are never as straightforward as they may first seem and it appears that the Brazilian Football Association are less than delighted at the prospect of seeing one of their key players for the forthcoming World Cup finals risk his fitness in the last game of the season.
Neymar is the face of Brazilian football and if he forced his recovery to play and then suffered a relapse, it would be a massive blow for Brazil in both sporting terms and also in questions of marketing.
Will Gerardo 'Tata' Martino, who will direct his last game as Barca coach, take the risk, or will he have Neymar on the bench in case Barca need a miracle? Only time will tell, but the clock is ticking down to the start of that all decisive game.