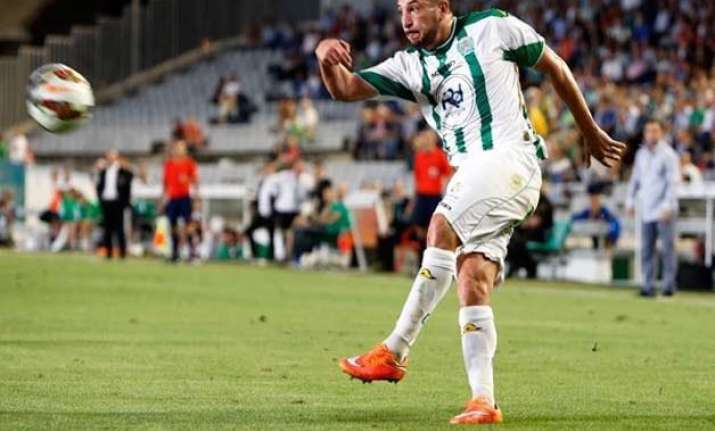 Cordoba, Spain: Forward Nabil Ghilas scored before leaving injured to spark Cordoba's 2-0 win over visitors Granada on Monday in a meeting between two teams in the Spanish league's relegation zone.
Ghilas used one touch to drive Patrick Ekeng's centered pass off the post and into Granada's net to open the scoring in the 16th minute.
He then picked out Federico Cartabia's run for his fellow forward to square the ball to Florin Andone, who tapped it home a minute before halftime to cap a perfect league debut.
"I'm very happy and thankful to coach for the chance to debut," And one said. "We believe in ourselves and are very eager to escape from the drop zone. We hope that 2015 will be a successful year."
Ghilas had to be substituted in the 65th after apparently hurting his left knee.
Promoted Cordoba's first home win in nine games lifted it above Granada into 18th place.
The winless streak for Joaquin Caparros' Granada reached 13 rounds as it fell to 19th ahead of bottom side Elche.
Granada continued its hapless play— including a league-low 10 goals scored— that has left it without a victory since September. It also lost forward Jhon Cordoba to an apparent muscle leg pull in the first half.
"This loss hurts a lot," said Granada's Fran Rico. "It takes so much for us to create scoring chances."
Real Madrid leads Barcelona and Atletico Madrid by one point but has a game in hand.