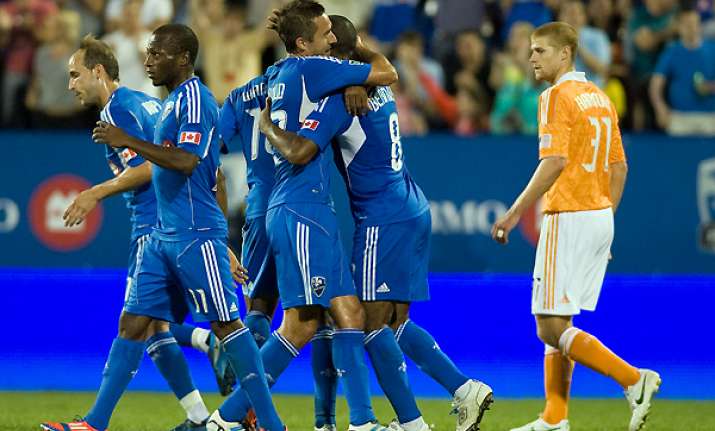 Montreal, Jun 24: Hassoun Camara got his first MLS goal and Patrice Bernier scored on a penalty kick in the second half, lifting the Montreal Impact to a 4-2 victory over the Houston Dynamo on Saturday night.
Sanna Nyassi and Davy Arnaud also scored for Montreal (5-8-3).
Will Bruin got his ninth goal and Brad Davis also scored for Houston (5-5-5). Former Impact forward Brian Ching had an assist.
Houston's Adam Moffat received a red card after bringing Montreal's Felipe Martins down hard in the 73rd minute.
The Impact took the lead when Arnaud flicked Martins' corner kick to Camara, who scored with a header at the far post in the 60th minute. After Felipe went down in the penalty area following a light shove from Geoff Cameron eight minutes later, Bernier converted the penalty kick.
Nyassi got Montreal on the board first after taking a pass from Martins and sending a shot that trickled past goalkeeper Tally Hall in the 4th minute.
Davis tied it in the 16th with a perfectly curled left-footed free kick from 22 yards that Donovan Ricketts couldn't reach.
Impact captain Arnaud, who turned 32 on Friday, headed in a cross from Justin Mapp in the 21st. However, Bruin scored on a pass from Ching with one minute remaining in the first half.
The Impact selected Ching first in the expansion draft in November, but the Dynamo captain's request to return to his former club was granted in February when he was dealt for a conditional 2013 draft pick.