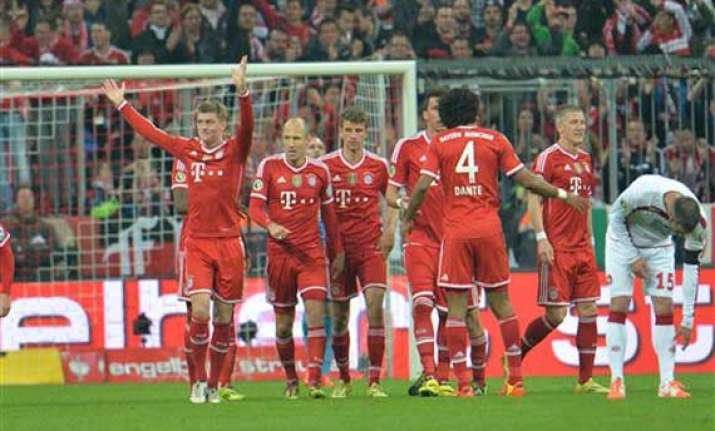 Berlin: The relegation battle and race for the last Champions League qualification spot take center stage in the Bundesliga with just four games of the season remaining. League champion Bayern Munich has already turned its attention to defending its Champions League and German Cup titles and will use the remaining games as warm-ups for Real Madrid and Borussia Dortmund. There are no games on Friday so the 31st round of games gets underway Thursday night with Eintracht Frankfurt hosting Hannover. Here are five things to know ahead of the Easter weekend's games:
BAYERN'S BUMPY RIDE   
Three straight Bundesliga defeats seems unthinkable for Bayern, previously unbeaten in a league record 53 games, but the champions have their eyes firmly on other prizes, offering a glimmer of hope for bottom side Eintracht Braunschweig on Saturday.   
Bayern responded to last weekend's 3-0 loss at home to Dortmund by beating Kaiserslautern 5-1 on Wednesday for a chance to "correct" the result - as Bayern chairman Karl-Heinz Rummenigge put it - when the sides meet again in the German Cup final in May.   
Bayern visits Real Madrid for the sides' Champions League semifinal first leg next Wednesday for Pep Guardiola's team's biggest game of the season to date, and the Spaniard is unlikely to take any undue risks at Braunschweig.   
Both Toni Kroos and Rafinha are suspended, while Braunschweig will be without defender Ermin Bicakcic and top scorer Domi Kumbela.   
"Home games are there to be won," Braunschweig coach Torsten Lieberknecht said.
RELEGATION DESPERATION   
Braunschweig is last with 25 points but only three points away from safety, ensuring an exciting end to the season, at least at one end of the table.   
The relegation rivals all face tough games this weekend, with Nuremberg (26 points), Hamburger SV (27) and Stuttgart (28) playing opponents that are targeting Champions League football next season.   
Nuremberg, which has lost seven of its last eight games, hosts fourth-place Bayer Leverkusen on Sunday, when Stuttgart welcomes third-place Schalke, while Hamburg hosts Wolfsburg on Saturday.   
"We can beat each of our last four opponents," Hamburg sports director Oliver Kreuzer insisted. "We have quality."
RACE FOR FOURTH   
The race for the last Champions League qualification place also promises to be an exciting one, with four teams within four points of each other.   
Bayer Leverkusen (51 points) has reassumed pole position since firing Sami Hyypia as coach, but Wolfsburg is just a point behind, Borussia Moenchengladbach is another back in sixth, while Mainz is seventh, on 47 points.   
"We have to go bit by bit to be better and more consistent," Leverkusen interim coach Sascha Lewandowski said. "We have many, many areas that need work."
DORTMUND CELEBRATING   
Second-place Dortmund has found form at the right time, albeit with the Bundesliga title well out of sight.   
Juergen Klopp's side has won four games across all competitions, including impressive wins over Bayern (3-0 in Munich) and Real Madrid (2-0 at home), and can look forward to facing Bayern in the German Cup final in May after beating Wolfsburg 2-0 in the semifinals on Tuesday.   
"What we have achieved this week is extraordinary," Dortmund chairman Hans-Joachim Watzke said. "I know now for sure that we are having another great season."   
Klopp returns to Mainz on Saturday, where the 46-year-old played between 1990-2001 and coached between 2001-08 before switching to Dortmund.
FREIBURG, NOT YET   
Freiburg garnered 13 points from its last six games, including three from last week's relegation six-pointer with Braunschweig, but the modest club is not yet safe, with four points separating it from the bottom four.   
"I'll do everything to stop anyone coming to the idea that we can play the last four games as though we're already saved. That would be madness," Freiburg coach Christian Streich said. "Behind us are teams like Hamburg and Stuttgart. That says everything."   
Freiburg has a tricky final four games, with Moenchengladbach visiting on Saturday, followed by Wolfsburg away, Schalke at home, and Hannover away.   
The last game could prove crucial, with Hannover currently level on points.