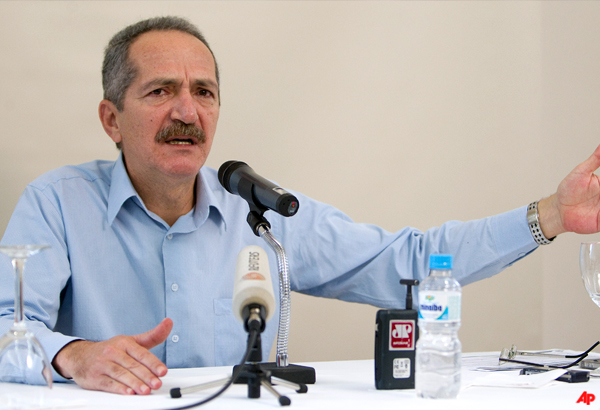 Sao Paulo, Mar 16: Brazil's sports minister reaffirmed to FIFA that the government remains committed to approving the sale of alcohol inside World Cup stadiums, even though Congress is divided on the issue.

Aldo Rebelo released a statement clarifying Brazil's stance just hours after congressmen hinted at removing the text on the sale of alcohol from a bill regulating the World Cup. Voting on the bill was delayed again because a deal on the issue was not reached.

Lower house government leader Arlindo Chinaglia hinted that section could be removed because Brazil didn't really make a commitment to FIFA to allow the sale of alcoholic beverages.

But Rebelo's statement late Wednesday said otherwise, reassuring FIFA that the government will not backtrack on the issue.

"The federal government clarifies that the commitment to FIFA in relation to the sale of food and beverages inside stadiums and other venues during the World Cup is part of the bill originally submitted to the national Congress," Rebelo said.

Congressman Vicente Candido, the author of the bill, reiterated on Thursday that the section on alcohol sale will stay on the bill when it's voted on again next week. He said "legal advisers" led the other congressmen to mistakenly think that Brazil was not committed to authorize the sale of alcohol.

The issue is important for FIFA because Budweiser is a major World Cup sponsor.

The sale of alcohol inside stadiums is prohibited by law, but FIFA said Brazil agreed to make changes to its legislation when it was picked to host the World Cup back in 2007.

Chinaglia said there "were some doubts on whether the commitment to FIFA existed," and other government congressmen also said Wednesday that it didn't have to be included in the current legislation.

Rebelo released the statement immediately after voting on the bill was delayed and congressmen were suggesting the government would change its stance.

The topic will likely come up when Brazilian President Dilma Rousseff meets with FIFA President Sepp Blatter on Friday in Brasilia.

The commission approved the bill last week after a lot of discussion and amid a crisis between the Brazilian government and FIFA about harsh remarks made by FIFA Secretary General Jerome Valcke, who complained of Brazil's slow World Cup preparations.

The bill has approved allowed the sale of alcoholic beverages in World Cup and Confederations Cup venues, but it still has to go through the lower house and the senate before reaching Rousseff. Voting on the lower house is not expected until next week.

The government has said there is enough support to approve the proposed law, which gives FIFA the needed financial and legal guarantees to organize football's showcase event.

The bill has been generated debate in Brazil because critics say it gives too much power to FIFA. It also sets rules on discounted tickets, trademark infringements, commercial rights and liability for security problems, among other issues.