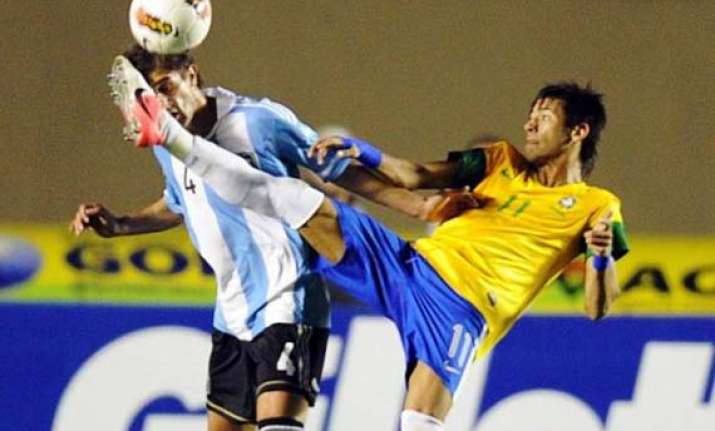 Buenos aires, Argentina, Nov 22: Brazil defeated Argentina 4-3 on penalties to win the Superclasico de Las Americas on Wednesday, a trophy contested by national team players with local clubs in Argentina and Brazil and excluding top stars like Argentina's Lionel Messi.
The trophy was settled by penalties after the teams finished the two-leg series level 3-3 on aggregate.
Argentina won the second match 2-1 on Wednesday with two second-half goals from Ignacio Scocco, who scored from a penalty in the 82nd minute, then saved Argentina with a winner in the 90th.
Fred scored for Brazil in the 84th to make it 1-1, which looked like it would give Brazil the trophy without penalties.
Brazil won 2-1 in September at Brazil.
Brazil star Neymar, the best-known player on either team, had two chances in the first half at Boca Juniors La Bombonera stadium and threatened again in the second. With the penalties level 3-3, it was Neymar who netted the deciding penalty, putting his shot behind diving keeper Agustin Orion.
Argentina went ahead with the penalty by Scocco, which came after a questionable penalty was called when teammate Juan Manuel Martinez went down in the area.
Fred scored two minutes later, chipping in a close-in shot and setting the stage for Scocco's second.
The series between South America's most famous teams are big money spinners for both countries, particularly popular since both play most of their international friendly matches away from home.
Wednesday's match was played in Buenos Aires after the second leg in October was called off when floodlights failed before the game in the provincial city of Resistencia.