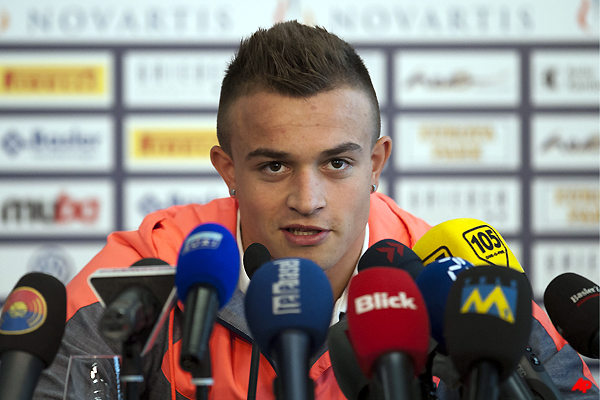 Basel, Feb 22: Xherdan Shaqiri will take center stage Wednesday when the Switzerland star's current and future clubs, FC Basel and Bayern Munich, meet in the Champions League round of 16.

Shaqiri, who agreed a reported €11.6 million ($15.3 million) transfer this month, will join the German giant at the end of the season — though he appears to be needed now.

Bayern has been in crisis mode ahead of the first leg since being held 0-0 at last-place Bundesliga side Freiburg on Saturday, and slipping to third.

"We're having a bad period at the moment, but nobody should make the mistake of underestimating Bayern Munich," coach Jupp Heynckes said Tuesday.

Munich has won just two of its five league games since the winter break, falling four points behind defending champion Borussia Dortmund and a point behind Borussia Moenchengladbach, which beat Bayern 3-1 in the first of those games.

Shaqiri, a stocky 20-year-old winger, was destined to make the short journey to Munich during the January transfer window until Basel ousted Manchester United in the biggest upset of the group stage.

Instead, the Swiss champion hung on to its prize asset — known as "Baby Popeye" — and seeks to shock another European titan at St. Jakob Park.

"(Shaqiri) has everything to become a really big player," Heynckes told Swiss media in Munich last week. "He has the talent but also the right professional attitude."

Bayern captain Philipp Lahm, the left back who will mark Shaqiri, described him as "an intelligent player who doesn't only look to score. His influence affects how the team plays."

Basel also has forwards Alex Frei and Fabian Frei, who combined to score eight goals as Basel advanced to the Champions League last 16 for the first time since 2003.

Last season, Bayern beat Basel home and away in the group stage, winning 2-1 here with second-half goals from Bastian Schweinsteiger, who will miss Wednesday's match because of an injured right ankle.

Still, friendly relations run deep between two near-neighbors who have powerhouse status at home.

Basel coach Heiko Vogel worked for Bayern for nine years as a youth coach, and succeeded Thorsten Fink, a Champions League runner-up with Bayern in 1999 who left to take charge at Hamburger SV last October.

Fink walked out on Basel within weeks of an impressive 3-3 draw away to Man United, and many expected the team's fortunes to slump.

Yet results improved and Basel removed the interim tag from 36-year-old Vogel by giving him a 2½-year contract in December, days after beating the English champions 2-1.

Vogel, who coached Bayern's Lahm and midfielder Toni Kroos years ago, anticipated an even tougher test over the two-leg tie.

"We have no reason to believe that Bayern will be anything other than the strong side that we have come to expect," the Basel coach said Tuesday.

Basel has lost just one match under Vogel, at home to Benfica in the Champions League, and is unbeaten in the Swiss League since August.

That record was preserved last Thursday when substitute Valentin Stocker scored a 90th-minute leveler to earn the leaders a 2-2 draw at second-place Young Boys. Stocker and Ivory Coast midfielder Gilles Yapi both returned from serious knee injuries.

Bayern is without defender Daniel Van Buyten who is sidelined by a foot injury.