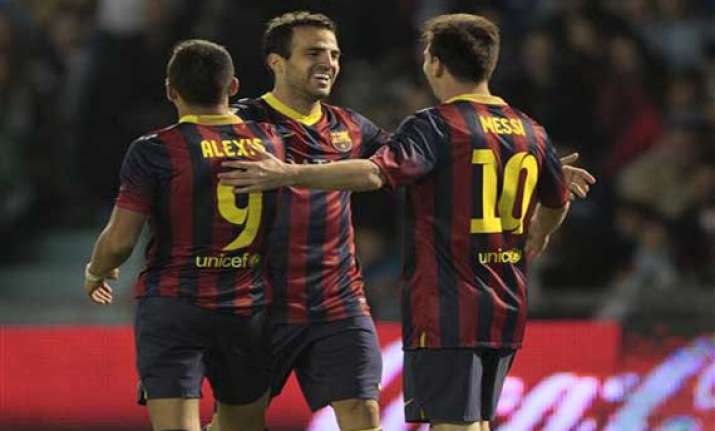 Barcelona, Spain: Cesc Fabregas scored two goals and played a part in Alexis Sanchez's opener to steer Barcelona to a 3-0 victory at Celta Vigo on Tuesday and keep the pressure on the Spanish league leader's title rivals.
The defending champion's 10th win in 11 rounds provisionally lifted it four points clear of Atletico Bilbao and nine points above Real Madrid before they play matches later this week.   
While Barcelona eased to another victory, crosstown rival Espanyol drew 0-0 at home with Malaga. The two Catalan clubs will meet on Friday in a city derby at Camp Nou.   
Barcelona dominated early in Vigo and Alexis put the visitors ahead in the ninth minute when he pounced on the rebound of a shot by Fabregas after the former Arsenal star had stolen the ball deep in Celta's half.   
The Chile forward's six goals are second only to Lionel Messi's eight for the team's leading scorer in league play.   
After Celta had pushed forward in search of an equalizer late in the first half with Charles and Rafina, who is on loan from Barcelona, both going close, Fabregas put the game away three minutes after the restart.   
With Celta again caught outnumbered after losing the ball, Messi drew in the defense and slipped the ball over for Fabregas to drill it under goalkeeper Yoel Rodriguez.   
Messi laid the ball off again for Fabregas to unleash a shot that hit the crossbar and ricocheted off the outstretched Rodriguez before crossing the line in the 54th.   
Celta's Manuel "Nolito" Agudo almost got a consolation goal in the 67th when he sent his free kick off the goalframe.   
Messi, who was oddly subdued in Barcelona's 2-1 win over Madrid on Saturday, searched for an elusive goal, often ignoring teammates in better positions to score.   
"We played well, together as one unit. We played a complete game," Fabregas said.   
Atletico visits Granada on Thursday after Madrid hosts Sevilla on Wednesday.   
Barcelona appears to have lost Adriano to another muscle injury. The injury-prone Brazilian defender grimaced as he was substituted in the 31st. On the bench, he taped an ice pack to his left thigh. The club said he would undergo tests on Wednesday.   
Celta coach Luis Enrique played for Barcelona from 1996-2004 before returning as its second-team coach in 2008. Enrique greeted many of the players in the Barcelona dugout, some of whom were old teammates like Xavi Hernandez, before the match with a series of hugs.   
"Our goal was to try and complicate their lives and we had the chance to do that in the first half, but that ended with their second goal early in the second half," Enrique said.   
Barcelona coach Gerardo Martino rested striker Neymar and midfielder Xavi Hernandez with his team to play a third league match in seven days on Friday.   
Also on Wednesday, it's: Valladolid vs. Real Sociedad, Valencia vs. Almeria, and Osasuna vs. Rayo Vallecano.   
Also on Thursday, it's: Villarreal vs. Getafe, Athletic Bilbao vs. Elche, and Real Betis vs. Levante.