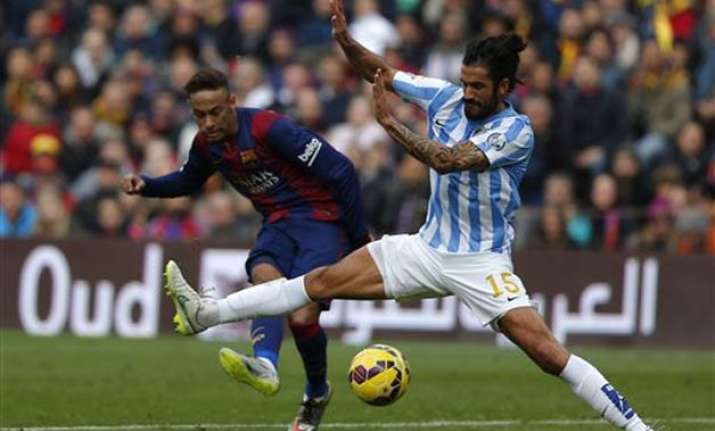 Barcelona, Spain: Malaga stunned Barcelona with a 1-0 victory at Camp Nou on Saturday to end the host's 11-game winning streak and prevent it from taking an overnight lead in the Spanish league.
Malaga struck early and hung on after Juanmi Jimenez took advantage of a shared defensive error by Dani Alves and goalkeeper Claudio Bravo in the seventh minute.
Coach Javi Gracia's team held Barcelona to 0-0 in their first meeting this season, and the visitors again did well to contain a team which included Lionel Messi, Neymar, and Luis Suarez, en route to their first win at Barcelona since the 1999-2000 season.
Real Madrid visits Elche on Sunday, looking to extend its one-point advantage at the top.
"From the start we could see it was going to be a tough game," Barcelona coach Luis Enrique said. "In the first half we were more or less ordered and balanced, but in the second half we lost control. Add to that that we weren't having our best day on an individual level. The result is a blow to us."
Atletico Madrid and Valencia took advantage of Barcelona's slip with wins that tightened the race among the top four.
Antoine Griezmann scored his team-leading 13th and 14th league goals to lead Atletico to an easy 3-0 home victory over Almeria, lifting the defending champions to within three points of Barcelona. Valencia won 2-1 at bottom side Cordoba to stay in fourth, another three points behind Atletico.
"We think about our daily fight with teams that get more attention," Atletico manager Diego Simeone said about chasing Madrid and Barcelona. "Valencia, Sevilla and ourselves, we have an enormous amount of points. That makes a league more competitive that we understand has Madrid and Barcelona as favorites."
Celta Vigo also won 2-0 at Deportivo La Coruna in a regional Galician derby to rise into eighth place.
Barcelona couldn't dwell on Malaga for long, as it will be at Manchester City on Tuesday in the opening leg of their Champions League last-16 tie. Atletico visits Bayer Leverkusen a day later.
Malaga's plan of packing men in its area to stifle Barcelona's attack, and looking to hit on the break worked so well that goalkeeper Carlos Kameni's most notable moment was actually setting up Malaga's goal.
Messi and Neymar combined for 24 goals during Barcelona's winning run, but neither were able to break down Malaga's disciplined defense. Messi was swarmed by defenders every time he tried to dribble through the middle, while his crosses from the right in search of Neymar were cleared. Neymar, as well as Suarez, were apparently devoid of ideas.
Kameni started the decisive counterattack with a long clearance that led to Jimenez racing forward to score. Both Barcelona's Dani Alves and Bravo played their part in the goal; the defender's short back pass together with Bravo's hesitation to leave his area to meet the pass allowed Jimenez to capitalize.
The home fans responded with a round of applause to try and lift Barcelona with 83 minutes to turn the result around. But Malaga held firm, anchored by center back Weligton, who was well placed to clear a goal-bound strike by Rafina in the 10th.
Malaga, meanwhile, remained dangerous when it surged forward, and Bravo had to twice save shots from Ricardo Horta before halftime.
Barcelona's frustrations only grew in the second half when it was limited to substitute Pedro Rodriguez hitting the side netting as its best opportunity to level with six to play, until Suarez forced Kameni into action in stoppage time.
Atletico hit home three times in the first half hour to dispense with Almeria.
Mario Mandzukic got his 12th league goal when he converted a penalty kick after Mauro Dos Santos fouled Diego Godin. Mandzukic then set up Griezmann to score on the break, and he headed the ball down for Griezmann to beat 'keeper Julian Cuesta a second time.
Atletico lost defender Siqueira to a second booking in injury time.
Valencia did get the late goal it needed when Pablo Piatti scored with nine minutes left to see off a pesky Cordoba side which had leveled through Nabil Ghilas' spot kick in the 74th.